Protesting McDonald's workers arrested in Chicago; labor pay debate beginning to brew in US
Friday, May 23rd 2014 - 10:50 UTC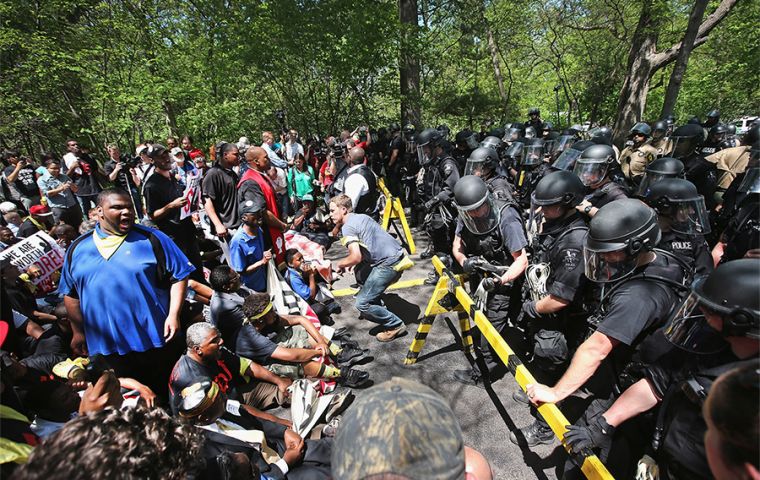 More than 100 demonstrators seeking better pay for McDonald's workers were arrested on Thursday as protesters swarmed the fast-food chain's corporate campus near Chicago demanding a minimum wage of 15 dollars an hour and the right to unionize.
The protest against McDonald's Corp, the world's biggest restaurant operator by revenue, came a day before a shareholder vote on executive pay, including that of Chief Executive Don Thompson, who earned total compensation of 9.5 million dollars in 2013.
Rallies by low-wage restaurant and retail workers have helped fuel a national debate on pay inequality at a time when many middle- to low-income Americans are struggling to make ends meet.
McDonald's, which is grappling with sagging US sales and higher beef prices, does not disclose average pay for restaurant workers, most of whom work for franchisees.
According to the Bureau of Labor Statistics, the 3.5 million fast-food and counter workers in the United States earn a median hourly wage of 8.83 dollars.
U.S. President Barack Obama has pushed Congress to raise the federal minimum wage to 10.10 per hour from 7.25. Washington, D.C. and 21 states have minimum wages higher than the federal minimum.
McDonald's spokeswoman Heidi Barker Sa Shekhem said the company and its franchisees were monitoring the minimum wage debate. "US$15 is unrealistic, but we know that the minimum wage will increase over time," she said.
"It's time for the McDonald's Corporation ... to stop pretending that it can't boost pay for the people who make and serve their food," said Mary Kay Henry, president of the Service Employees International Union (SEIU), who was among those arrested at the protest in Oak Brook, Illinois. Organizers said 2,000 people turned out for the rally.
A recent report from New York think tank Demos found that the CEO-to-worker compensation ratio for the fast food industry was more than 1,000-to-1 in 2013.