Pescanova Falklands operation could be targeted by Argentina, says Spanish media
Saturday, May 24th 2014 - 00:11 UTC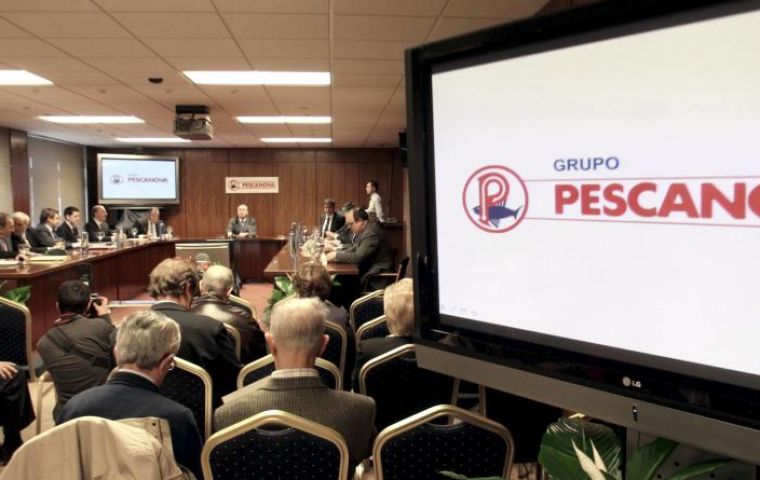 Argentina's government could at any stage now force Spanish seafood group Pescanova to divest its squid fishing operation based in the Falkland Islands, as it is reportedly breaching fishing legislation, said Spanish media.
An online news outlet based in Madrid, El Confidencial, reported that the board of the Pescanova, already amid a restructuring plan, is aware of the risk this situation poses to the company, as it would hit revenues.
According to the Deloitte report on Pescanova, the Spanish company has two vessels operating in the Falkland Islands, through a stake in Polar Ltd. They captured 13,240 metric tons of squid in 2012, a huge leap up from less than 6,000t in 2011.
Meanwhile, Pescanova's Argentine subsidiary Argenova catches, processes and trades giant squid, shrimp and toothfish.
The vessels in the Falkland Islands generate some €16 million in operation earnings, and they are linked to Polar Ltd, in which Pescanova has a 69.68% stake through asset holding firm Lafonia.
Other Spanish companies, like the oil corporation Repsol, and the Spanish fishing firm Eduardo Vieira, have already suffered expropriation orders from the Argentine government.
"Sooner or later, the new owners of Pescanova will have to deal with this conflict, considered by a number of directors as a real 'time bomb' and a potential issue that could derail the efforts to salvage the Spanish seafood company," the article read.
In an apparent and partial u-turn, the creditor banks which took control over Pescanova recently decided to renegotiate the foreign subsidiaries' debts, reported El Economista. No official word has so far been said about the Argentine legal conflict. (FIS).-