Vatican-Casa Rosada controversy: the Pope's missive, a letter or a telegram?
Saturday, May 24th 2014 - 10:05 UTC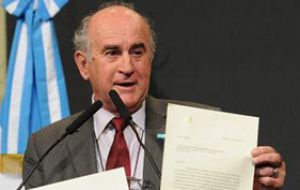 Argentina's Secretary to the Presidency Oscar Parrilli said on Friday that the letter sent to President Cristina Fernandez and which caused a controversy with local Church officials, is "authentic". Argentine ambassador to the Vatican Juan Pablo Cafiero was contacted by Pope Francis to confirm the situation.
Cafiero addressed an official letter to the President Cristina Fernández, explaining the pontiff contacted him to discuss the controversy over the missive that was made public by the federal government on Thursday, in which the head of the Roman Catholic Church sent his blessing to the people of Argentina ahead of the May 25 National Holiday.
"The Holy Father regrets those who have sowed doubts and the media that wanted to take water out from the arid soil to create conflict," Cafiero says in his letter and adds Francis fully confirmed the message was "authentic," sending a "warm greeting" to the Argentine people and requesting to make this new official communication "public."
"I expressed with gratitude a gesture of such respect and that the pope honors with the truth," the Argentine ambassador adds.
After reading Cafiero's message, Secretary Parrilli said the federal government "had no further comments" to make on the issue.
Meanwhile Chief of Ceremonial of the Vatican Guillermo Karcher who on Thursday denied the authenticity of the letter, said the message was "official." The Vatican spokesman Federico Lombardi has also ratified Karchner's statements.
"It has to be absolutely clarified; everything is official but it is not a letter but a telegram" father Karchner told a radio show on Friday morning.
"Today I rectify (my statements) and I do so with great honesty. It is not a letter; it is an official telegram, legitimate, that comes ahead of the May 25 National Holiday," he added alluding to the 204th anniversary of the so called May Revolution that marked the beginning of Argentina's independence from the Spanish crown.
Karcher explained as well that the telegram, which sparked such a controversy after it came publicly, "is regularly sent to governments ahead of different national holidays to send the pope's blessing to the government and the people."
In the meantime, priest Lombardi explained the Vatican's Secretariat of State usually sends such messages "in the name of the Holy Father" through the Nunciature office of each country.