Israel and Palestine presidents accept Francis invitation to pray at the Vatican
Monday, May 26th 2014 - 06:20 UTC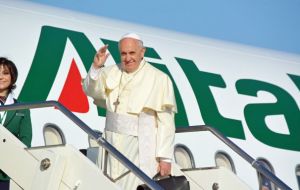 Pope Francis inserted himself directly into the collapsed Middle East peace process on Sunday, issuing an invitation to host the Israeli and Palestinian presidents for a prayer summit meeting at his apartment in the Vatican.
Francis took the unexpected step in Bethlehem, where he became the first pontiff ever to fly directly into the West Bank and to refer to the Israeli-occupied territory as the "State of Palestine."
After describing the overall situation between Israel and the Palestinians as "increasingly unacceptable," the pope made a dramatic, unscheduled stop at Israel's contentious concrete barrier separating Bethlehem from Jerusalem, where he prayed and touched his head against the graffiti-covered wall.
"There is a need to intensify efforts and initiatives aimed at creating the conditions for a stable peace based on justice, on the recognition of rights for every individual, and on mutual security," Francis said. Peace "must resolutely be pursued, even if each side has to make certain sacrifices."
Presidents Shimon Peres of Israel and Mahmoud Abbas of the Palestinian Authority accepted the pope's invitation to pray together; Mr. Abbas's spokesman said the meeting would take place June 6.
Though the meeting is likely to be more symbolic than substantive — Israel's presidency is ceremonial and Mr. Peres leaves office soon — it could have atmospheric significance for a peace process that has all but completely broken down.
More broadly, Pope Francis' actions on Sunday posed a striking example of how, barely a year into his papacy, he is seeking to reassert the Vatican's ancient role as an arbiter of international diplomacy.
Last September, an estimated 100,000 people took part in a four-hour peace vigil for Syria at St. Peter's Square as the United States was contemplating military strikes against the Syrian government.