Argentina promises no gas shortage this winter, but industry has already suffered the first cuts
Tuesday, May 27th 2014 - 08:42 UTC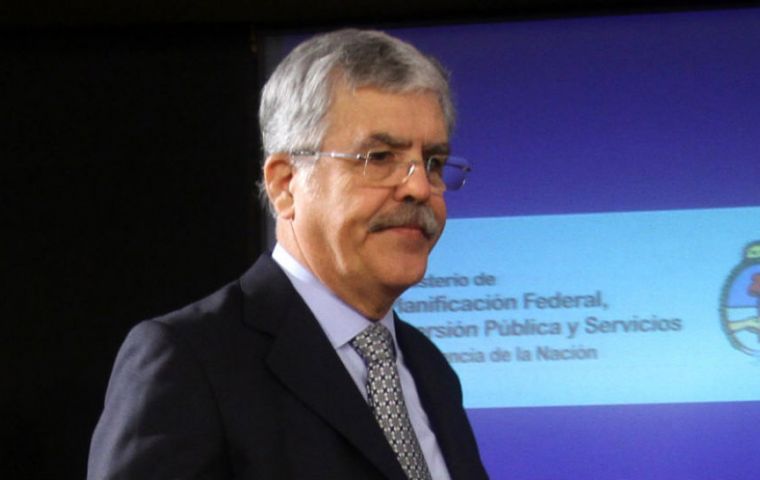 Argentina's Planning minister Julio De Vido guaranteed publicly on Monday that there will be no gas cuts next winter (21 June), while Energy Secretary Daniel Cameron described the "situation as the best in the last four years".
The announcements were made during the launching at De Vido's office of the bid for the third leg of the Northeast Gas pipeline, with a total of 265 kilometers in the central province of Santa Fe.
"We continue advancing in honoring al old debt with the Argentines and that is providing a network of gas to 120.000 residents from the south of Santa Fe", said De Vido.
"When many argue that Argentina back in 2003 was self-sufficient in gas, they forget that 13 provinces had no connection at all to the gas pipelines and the country had an only main pipeline", said De Vido adding that "this winter there will be no shortage of the fluid".
The new pipeline with connect with the main gas network coming from supplier Bolivia which links with the northern province of Salta, where a distribution and pumping station has been installed.
The Northeast gas pipeline will provide the fluid from Bolivia to the provinces of Salta, Formosa, Chaco, Corrientes and Santa Fe through a 40 inches transport line extending 800 kilometers and demanding an investment of 600 million dollars.
However despite the official optimism metropolitan Buenos Aires is already suffering the consequences of insufficient gas, according to the distribution companies. To ensure homes supply of gas the government ordered large and medium industries to cut their consumption 30%.
The decision according to the main distributors involved some 300 companies last Friday which was particularly cold. The normal consumption of industry in metropolitan Buenos Aires is in the range of 42 million cubic meters per day, but last Friday's cold weather saw supply cut to 30 million cubic meters.
The cut in gas provision is a classic of Argentine winter days: as residential demand soars, the government restricts gas to power plants (which then run on subsidized liquid fuel), and other industries.
The energy deficit has become an overwhelming challenge for the Cristina Fernandez administration that has seen the fuel import bill soar to billions of dollars absorbing most of the trade surplus.
The situation also forced the seizure of a majority stake in Spain's Repsol YPF and the opening of the oil and gas markets to foreign companies.