Ireland's Labor to renew leadership after Sunday's shock; coalition imperiled
Tuesday, May 27th 2014 - 09:41 UTC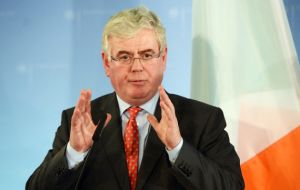 Irish deputy prime minister Eamon Gilmore said on Monday he will quit as leader of the junior government Labor party, in a move that could destabilize the coalition and its austerity program following a major election setback.
Alongside Prime Minister Enda Kenny, Gilmore led Ireland out of an international bailout last year and there have been signs of economic recovery, but it is not being felt by large numbers of voters who hammered Labor in the elections at the weekend.
The collapse in support at local and European polls prompted eight members of Labor's parliamentary party, representing almost a fifth of the grouping, to submit a motion of no confidence in Gilmore's leadership.
"In 2011, following our most successful ever general election result, I asked the party to take on the responsibility of government during the worst economic crisis in the history of the state," Gilmore told a hastily arranged news conference.
"It was a course which carried a high political risk, and Labor has paid the price for that. I believe that the work of renewing the party is best done under new leadership," he said, adding he would step down once the party elects a successor.
The next leader, who will be chosen by colleagues in early July if more than one challenger emerges over the next two weeks, will also probably become deputy prime minister.
Three years ago, Labor went into government for the first time since the late 1990s on a promise to end the previous administration's adherence to "Frankfurt's Way", an austerity plan the party said was dictated by the European Central Bank.
However the centre-left party angered supporters by pursuing the tough austerity required under the EU/IMF bailout and it captured just 7% of seats in the local polls, compared with 19% at parliamentary elections three years ago.
Kenny, who had a close relationship with Gilmore and whose party surprisingly slumped to second place in the local polls, needs the support of Labor to push through its final package of austerity cuts in October's budget.