Antarctica visitors up 9% in 2013/14 season, totaling 37.405, according to IATTO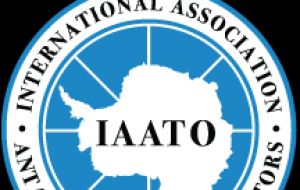 The International Association of Antarctica Tour Operators (IAATO) announced its tourism figures for the 2013-2014 season, on the first day of its 25th Annual Meeting in Providence, Rhode Island. The total number was 37.405, up 9% with a growing prevalence of Chinese visitors.
The total numbers of visitors travelling to Antarctica, with IAATO members, was 37,405, an increase of 9% compared to the previous season. Levels of visitation have been increasing modestly since 2011-2012, but are still considerably less than the peak of 46, 265 during the 2007-2008 austral summer.
There was an increase across all sectors of Antarctic tourism, with most growth (16%) seen amongst those operators offering an air-cruise combination, which accounted for 5% of all visitors. In this case, travelers are flown to the South Shetland Islands to join a cruise that makes landings at sites on the Antarctic Peninsula. Joining a ship carrying fewer than 500 passengers from a gateway port, such as in southern South America, remains the most popular way of visiting the Continent, accounting for 68% of visitors.
Inline with global tourism trends, the number of Chinese visitors increased, to make up 9% of the total. Ten years ago, in the 2003-2004 season, they represented just 0.2% of total visitors to Antarctica. China moved ahead of Germany and the UK to sit behind the USA and Australia, which made up 33% and 11% of visitors respectively.
Tourism Growth Management is one of the many topics being discussed at IAATO's annual meeting.
Claudia Holgate, Environmental Manager, said, "As part of our member's commitment to operating in a safe and environmentally responsible way, IAATO regularly analyses the trends and evolution of Antarctic tourism to identify any significant issues. Our Annual Meetings bring together a wide range of people with an interest in Antarctica's future, from IAATO members to Treaty Party representatives.
The meetings provide a lively and productive opportunity to discuss potential challenges and ensure that the Association is prepared for these."
Percentage of Known Passenger Nationalities, for the 2013-2014 Season (as of 10 May, 2014).

Nationality Percentage (%) of Total
United States 33.2
Australia 11.0
China 8.9
United Kingdom 8.1
Germany 7.7
Canada 5.4
France 2.7
Switzerland 2.3
Other 20.7
TOTAL (as of May 10, 2014) 100.0