Falklands and Punta Arenas close medical professional relations
Wednesday, May 28th 2014 - 08:16 UTC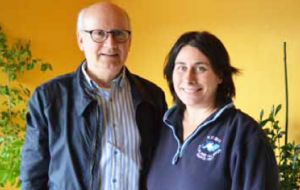 Relationships between medical professionals in Southern Chile and the Falkland Islands have been strengthened following a visit by the Islands' radiographer to Punta Arenas.
Nina Aldridge spent a week with the team at Scanner Sur in the Clinica Magallanes, on a visit supported by the British Embassy in Santiago and with assistance from Honorary Consul John Rees, who is also International Relations Manager at the Punta Arenas hospital.
Stanley's King Edward VII Memorial Hospital (KEMH) and the Clinica Magallanes have long-standing ties, with Islanders regularly referred to Punta Arenas for emergency or specialist treatment and Ms Aldridge welcomed the chance to meet the imaging team there and see the facilities on offer, a set up she described as, "fantastic".
She met the team which looks after Falklands patients and gained information about how they operate which she will pass onto patients prior to their referrals to Chile.
Likewise, the team there got to know Ms Aldridge, to understand limitations in the Islands and get a better feel for patients' management pre and post-imaging in Punta Arenas.
"Particularly useful were the plain x-ray rooms, as we are currently looking at upgrading our system to digital radiography and it was excellent to get the opportunity to see it at work," she added.
The visit came a week before the mammography screening specialists arrived in the Falklands and Ms Aldridge said it had been interesting to see how the Clinica Magallanes managed their breast screening and their equipment to deliver the service.
The professionalism and imaging knowledge of the staff in Scanner Sur was exceptional and there was a high standard of English among them, "even those who claimed to speak no English," she said.
She added, "I would like to thank everyone who made this visit possible". (PN).-