Five killed as small plane goes down in the River Plate coast; four survived
Wednesday, May 28th 2014 - 08:40 UTC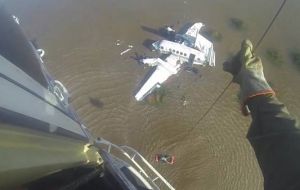 A small plane crash landed on Tuesday into the Río de la Plata river with nine passengers on board. Four of them were successfully rescued and transferred to hospitals in Buenos Aires and Uruguay, and at least five people were reported dead.
Two of the passengers were identified as top executives from the Renault car manufacturer.
Of those five, three remained trapped inside the plane, while two were removed during a joint operation between Uruguay and the Argentine Coastguard helicopters. Because of the shallow muddy waters no vessels could approach the crash-landing area.
The bodies, however, stayed at the scene until well into the evening, when judicial authorities gave permission for their removal.
The dead have been identified as pilot Leandro Larriera and passengers Fernando Sánchez, Facundo Alecha, Fernando Lonigro and Gustavo Fosco. Sebastián Vivona, Santiago Villamil, Paula Silvana Buery and Ignacio Javier Losa were rescued alive from the crash.
The aircraft took off from the Buenos Aires locality of San Fernando, in Argentina, and went down while flying to the city of Carmelo, in neighboring Uruguay.
Argentine textile businessman Federico Bonomi admitted he was the owner of the craft, although he was not on board.
"I have no further information yet," he told reporters and confirmed that both the pilot, and one of the passengers, Vivona, were close friends of Bonomi and work colleagues for a long time.
Uruguayan Navy spokesman Gastón Jaunsolo had earlier confirmed that the passengers raised the alarm after their plane, a BE020, had suffered a malfunction.
"The craft went down due to a malfunction, and on avoiding a heavier impact [those aboard] were able to make a distress call."
The aircraft was a Beechcraft Super King Air B200, turboprop with capacity for 13 passengers and two crewmembers. It is considered a very good aircraft, particularly because of its landing versatility in all sorts of strips.