Brazuca ball less erratic than the Jabulani used at South Africa, say Japanese scientists
Friday, May 30th 2014 - 22:02 UTC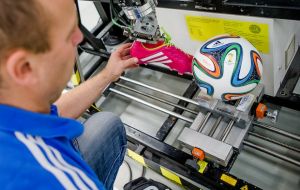 Scientists in Japan say the Brazuca 2014 World Cup ball will be less erratic than the Jabulani used at South Africa 2010. The Brazuca is the 12th World Cup match ball designed by Adidas. The Jabulani was criticized for its light weight and unpredictability.
Two engineers at Japan's University of Tsukuba compared the aerodynamics of the Brazuca, Jabulani, the Teamgeist used at Germany 2006, the Cafusa used at the 2013 FIFA Confederations Cup, and the conventional 32-panel ball in the laboratory.
On Thursday, they reported that the Brazuca had a stable flight trajectory due to its shape and having only six panels. The scientists used wind tunnel tests and kicks with robot legs to measure air resistance and trajectory, which they said revealed the Jabulani was an erratic ball.
Brazuca had the lowest drag of all the balls tested, they concluded.
According to sports engineer at Sheffield Hallam University in England the study results meant the Brazuca would be more predictable for players at the World Cup.
"It's much more likely to behave like the footballs they are used to play with," he said, adding that there was no problem with the ball being too smooth, something that had caused "unsteady" aerodynamic forces with other World Cup balls.
Whether strikers will welcome the scientific analysis remains to be seen until the World Cup reaches its climax. But forwards generally prefer a ball that can move in the air to beat the very best goalkeepers.