End protests against the World Cup, "whatever money has gone has been spent or stolen already"
Friday, May 30th 2014 - 22:11 UTC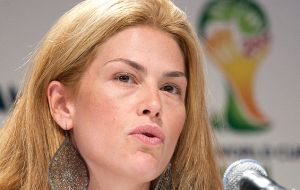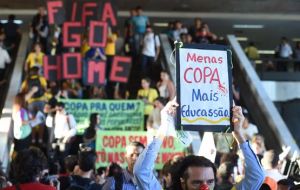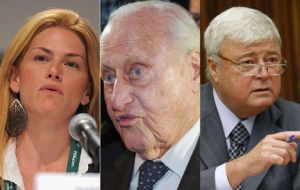 The grand-daughter of former FIFA president Joao Havelange has stepped into the war of words over Brazil's World Cup preparations unabashedly telling protestors angry at the tournament's massive budget to get over it because some money had already been "spent" or "stolen" or "robbed."
Daughter of disgraced former Brazil's Football Confederation, Ricardo Teixera, Joana Havelange has been widely reported in Brazil as suggesting there was no longer any point in calling for some of the World Cup's 11 billion dollars spent to be redirected toward health, education and transport.
"I want the World Cup to go off as well as possible," said Havelange who holds a prominent role on the local organisation committee. "I'm not going to jeer it, because whatever money has gone had been spent or stolen already."
"If it was necessary to protest ... then people should have done so beforehand," she said in the post, which was later deleted. "I want people coming from abroad to see a Brazil which knows how to welcome, to be friendly," she added.
"I want to see a beautiful Brazil. My protest against the World Cup will be during the (October general) elections."
"What's been spent, what's been robbed, has already happened," said an excerpt of a message she shared on social networking website Instagram without providing specifics. "Destroying what we have today won't change what will be done tomorrow."
The World Cup, which kicks off on June 12 in Sao Paulo, is expected to be hit by a continuation of the wave of demonstrations that began at last summer's Confederations Cup and have continued sporadically throughout the country.
Almost every stadium is over-budget and this latest intervention could hardly have come at a worse time for those striving to present a positive image of Brazil as a fun-loving, football-mad nation. The Brasilia Arena for example is three times its original budget.
Last year, following damning findings by FIFA's ethics committee, Joao Havelange, who controlled the organisation for 24 years, resigned as honorary president after being officially denounced for having taken bribes.
Teixeira, his son-in-law, relinquished all his football related roles, including head of the Brazilian FA and a prominent FIFA executive committee position, and fled Brazil after both men were accused of illicitly receiving millions of dollars in the infamous ISL affair.