UN honors the 'long and proud history' of one million UN peacekeepers
Friday, May 30th 2014 - 00:58 UTC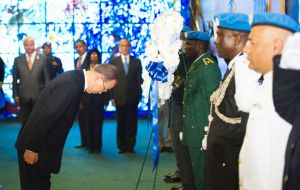 Hailing the "long and proud" history of United Nations peacekeeping – with over one million "blue helmets" having served in more than 70 operations on four continents since 1948 – Secretary General Ban Ki-moon led the Organization on Thursday in honoring those men and women who lost their lives in the past year, while looking to the future, envisioning a modern, global force that can effectively tackle emerging peace and security challenges.
On this International Day of United Nations Peacekeepers, observed annually on 29 May, the world body honored the 106 peacekeepers who died last year while serving under the UN flag, bringing the total number of lives lost in the history of peacekeeping to more than 3,200.
"We mourn the passing of every one of these courageous individuals. We grieve with their friends and families and we recommit ourselves to ensure that their contributions to the cause of peace will never be forgotten," declared the Secretary-General in his message for the Day.
He noted that today, more than 116,000 UN personnel from more than 120 countries serve in 16 peacekeeping operations. "At great personal risk, these military, police and civilian personnel help stabilize communities, protect civilians, promote the rule of law and advance human rights."
The annual wreath-laying ceremony took place for the first time at a newly-created site on the north end of the UN's New York Headquarters complex.
Opening that solemn ceremony, Mr. Ban said 2013 was the sixth year in a row that more than 100 peacekeepers died. Some were killed when their convoys came under attack in Darfur and South Sudan.
Others had lost their lives to explosions in Mali. Still others were taken by floodwaters in Darfur. "In the Democratic Republic of the Congo (DRC) and elsewhere, our peacekeepers were shot while protecting civilians." He said, adding that in the Middle East, Haiti and beyond, many succumbed to deadly diseases and other dangers that are part of their life-saving work.
"The threats continue this year. The insecurity in South Sudan, the Central African Republic, Mali and Darfur has tested us to the limits of our capacities," the Secretary-General said, underscoring that the Organization is doing everything possible to protect its personnel in the field. "Despite our best efforts, we can never reduce the risks entirely," he added somberly.
"That is why today, we applaud the courage, dedication and professionalism of the 120,000 peacekeepers who are now deployed in some of the most dangerous places on earth. I pay them my highest tribute," said the UN chief.
In his remarks at the Dag Hammarskjöld Medal Awards Ceremony, Hervé Ladsous, Under-Secretary-General for UN Peacekeeping Operations said those blue helmets that had lost their lives had not perished merely for an ideal: "Our peacekeepers have made a practical difference on the ground, and this perhaps what matters most."
As for current on-the-ground operations, he said UN peacekeeping is providing a dynamic response in some of the planet's most complicated and difficult places. "Our peacekeepers continue to be in high demand and for UN peacekeeping to be relevant and effective, we must not just keep up with this changing environment, we must be a step ahead of it."