Germany and UK disagree on candidate for next EU Commission president
Saturday, May 31st 2014 - 07:15 UTC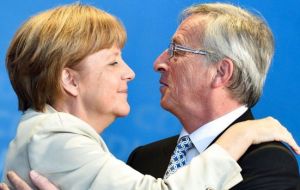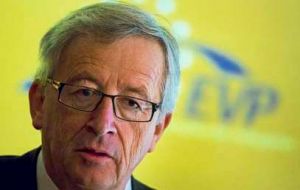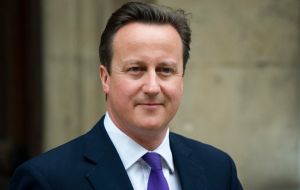 German Chancellor Angela Merkel has said she wants former Luxembourg Prime Minister Jean-Claude Juncker to become the next EU Commission president. But some European leaders have voiced opposition to the move, including the British government who argue that Mr. Juncker is too much of an EU federalist and called for "a lengthy process to find consensus".
Mr. Juncker belongs to the European People's Party, which won the most seats in the European polls last week. The centre-right party, which also includes Merkel's Christian Democrat party, won 213 out of 751 seats in the European Parliament and chose Juncker as its candidate for the presidency succeeding Portugal's Jose Manuel Barroso.
Juncker's main rival is the Socialist candidate Martin Schulz.
EU leaders traditionally choose the Commission head on their own, but under new rules have to "take into account" the results of the European parliamentary elections.
Chancellor Merkel said on Friday that the EPP "with its top candidate Jean-Claude Juncker has become the strongest political power which is why I am now conducting all talks exactly in this spirit, that Jean-Claude Juncker should become president of the European Commission".
It is seen as her clearest statement of support for the veteran politician, who once chaired the Eurogroup of Eurozone finance ministers that had to make tough decisions about struggling debt-laden countries.
The announcement came despite UK Prime Minister David Cameron making his views clear, at a Brussels meeting earlier this week, that he wanted a reformer to take charge of the EU executive.
But Chancellor Merkel drew criticism from politicians and media in Germany when she indicated that Mr. Juncker might not end up leading the Commission, after some member states expressed reservations about him.
Downing Street is emphasizing that it will be national governments and not the European parliament which will have to agree on the president. European leaders hostile to the appointment include Sweden's Fredrik Reinfeldt and Hungary's Viktor Orban.