IMF and Argentina/Paris Club deal: "we hope they continue that process"
Saturday, May 31st 2014 - 06:42 UTC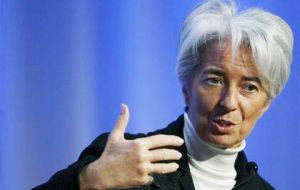 IMF managing director Christine Lagarde touring east Africa, on Friday cautiously welcomed steps taken by Argentina to settle a decade-old falling out with creditors, following a 9.7bn dollars five year repayment deal reached this week.
Argentina has been frozen out of international debt markets since a massive default in 2001. That led to the IMF and the government severing ties amid boiling public anger at the Washington-based lender.
Stressing that the IMF was not party to Thursday`s agreement, which will see Argentina clear arrears and resume debt payments, Lagarde indicated it could help Argentina "normalize it`s situation"
She said: "I see this as part of a process through which Argentina is trying to regain position on the international scene".
"It is part of an attempt by Argentina to normalize its situation. We hope that number one, it benefits them and number two, that they continue that process".
The representatives of official creditors in the Paris Club "agreed on an arrangement to clear debt in arrears due to Paris Club creditors over a five-year period", the club said in a statement on Thursday.
Lagarde said while the IMF was very closely working with the Paris Club on all issues, "on Argentina we could not possibly comment, issue a statement, assess a situation over which we had no information."