Over 100 British MPs come out in support of Argentina and condemn 'vulture funds'
Wednesday, June 4th 2014 - 07:43 UTC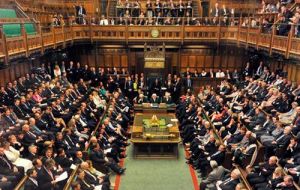 More than 100 British Members of Parliament have signed a resolution of support for Argentina in the fight against hedge fund holdout investors, and warned that if the United States Justice System ruled against the nation it could fall into default.
The parliamentary motion was organized by the Jubilee Debt Campaign, a long-standing critic of the "vulture funds" and other creditor organizations, and was signed by a total of 106 MPs.
The 'Support motion' warns that "The vulture funds are trying to force Argentina into not complying with external debt payments through a lawsuit in New York".
The legislators called on the British government to promote a law which would "stop the vulture funds from ignoring the restructuring of Argentine and Greek debt."
A statement from the Jubilee Debt Campaign slams the holdout investors, including the NML Capital and Aurelius hedge funds, for their persistence in pursuing Argentina through the US court system:
"The vulture funds bought up billions of dollars worth of Argentina's debt in the early 2000s when the country's economy was on its knees and its people were suffering horrendous poverty. Defaulting on its debts was the only option. 93% of lenders agreed to reduce Argentina's debt burden, and the country's economy has recovered. But vulture funds have spent more than a decade demanding the full amount plus interest and penalties.
The decade-long legal battle has been called 'the sovereign debt trial of the century'. Argentina is now appealing to the US Supreme Court.
We believe there is no ethical justification for Argentina making this payment. These 'vulture funds' never lent money to Argentina – they are profiteering from a country in debt crisis. Please sign our global statement of support for Argentina's right to refuse to pay."
The US Supreme Court will decide next Tuesday if they will take the Argentine case, effectively the nation's last resource to avoid full demand of payment by creditors.