Spain's Felipe VI will be proclaimed on 18 June before the two houses of Parliament
Wednesday, June 4th 2014 - 08:19 UTC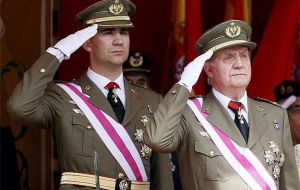 Spain's crown prince will be proclaimed King Felipe VI on June 18 before Parliament in Madrid, legislative officials said Tuesday. The 46-year-old Felipe de Borbon, who currently holds the title of Prince of Asturias, will succeed his father, King Juan Carlos, who announced on Monday that he was abdicating.
The body that manages legislation in the lower house of Parliament introduced the bill making King Juan Carlos de Borbon's abdication official on Tuesday afternoon.
Under Spanish law, Parliament must approve legislation governing the succession process for the Crown. The succession law is expected to be approved by the lower house of Parliament next week, with the Senate likely following suit on June 17.
The constitutional mechanisms for the succession will be activated once the law is published in the Official Bulletin of the State, or BOE, and Prince Felipe will then be proclaimed king before Parliament.
The one-article document, which has two sections, states that King Juan Carlos I is abdicating the Crown of Spain and the move will "produce an automatic succession, following the order established in the Constitution."
The proclamation of Felipe VI as king of Spain will be carried out before a joint session of the two houses of Parliament.
King Juan Carlos and Crown Prince Felipe on Tuesday made their first public appearance together since the monarch announced that he was abdicating in favor of his son. They participated in a military ceremony at the San Lorenzo de El Escorial Monastery that was attended by the army and air force commanders.
Juan Carlos appeared frail as he emerged from a car with his son, pacing slowly with a cane to a podium where the two watched soldiers parading decked out in dress uniforms. As Juan Carlos and Felipe arrived, people shouted "Long Live the King!" and "Long Live the Prince."
The Spanish monarch said Monday he was abdicating in favor of his son after nearly 39 years on the throne.
"Today, a younger generation deserves to move to the forefront, with new energy, committed to carrying out the transformations and reforms that the current situation demands with determination," the king said, referring to Felipe, the Prince of Asturias.
King Juan Carlos said he began preparing to step down in January, when he turned 76. Juan Carlos ascended to the throne on Nov. 22, 1975, and is widely respected for leading Spain's transition from dictatorship to democracy and staring down a 1981 coup attempt, but was hit hard by royal scandals over the last several years.