Argentina will have free national transmission of 64 World Cup matches
Friday, June 6th 2014 - 08:28 UTC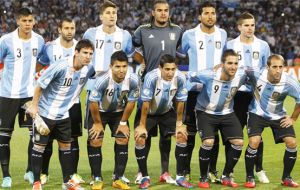 Argentina confirmed on Thursday World Cup nationwide transmission free service both on television and radio. Channel 7, DeporTV and Radio Nacional will be responsible for delivering the service, thus fulfilling President Cristina Fernandez government's promise of the "World Cup for the whole country".
According to cabinet chief Channel 7 will broadcast 32 of the 64 games live and the highlights of the other 32 games, while DeporTV will broadcast all the matches live.
During a press conference from Government's House and together with Channel 7's official World Cup commentators, the Cabinet Chief added that 90% of Argentina has access to the high definition broadcast of DeporTV via open digital television, so people will be able to enjoy HD nationwide.
"The country has 84 digital TV antennas, 1.4 million distributed decoders and strategic digital TV distribution in rural areas, bars, restaurants and bus stations" Capitanich said.
Canal 7's broadcast will include the opening ceremony, 18 first round matches, 5 second round matches, quarterfinals, semifinals, the third place match, the final match and the closing ceremony.
The official Brazilian broadcast will set 30 cameras to capture each game, and Argentina matches will have 3 extra cameras from Channel 7. The first transmission starts June 12 with the opening ceremony and the match between Brazil and Croatia in Sao Paulo.