EU waiting for a signal from Mercosur for the trade deal, says Brussels official
Tuesday, June 10th 2014 - 08:25 UTC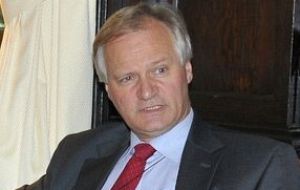 "There is no sense in holding discussions if both sides are not ready" and there are no dates for a meeting of European Union and Mercosur negotiators, revealed the EU External Action Service Director Christian Leffler who nevertheless expects a positive result in the near future.
"We are really waiting for a signal from Mercosur, and as far as we know most of Mercosur members are ready for an exchange of proposals for a trade agreement with the EU", said Leffler who visited several Mercosur member countries before attending last week's OAS assembly in Paraguay.
"We want to exchange proposals, we told that to our Mercosur partners long time ago, but so far there has been no signal. There is no sense in holding discussions if we are not ready on both sides for the exchange of proposals. We are still waiting for the confirmation of the meeting with Mercosur members", admitted Leffler.
Nevertheless the EU official said that several Mercosur members are ready for the exchange and have been working intensely, under the leadership of Brazil, but "sometimes it's more difficult to negotiate with four countries than with the 28 we make up the EU".
The EU and Mercosur (Argentina, Brazil, Paraguay and Uruguay; Venezuela is not included in the negotiations because it is still in the process of incorporation to the group), have been holding talks on a trade and cooperation agreement since 1999, but after a long six year freeze were only retaken in 2010.
Last May Mercosur continued with the drafting of the joint proposal to exchange with the EU for the trade deal, according to what was discusses by the Common Market Group in Caracas, while last month Brazilian foreign minister Luiz Alberto Figuereido announced during a recent visit to Montevideo that negotiations were in the 'final stage' and "we're talking of weeks not months".
Originally Mercosur was scheduled to make the presentation at the end of 2013 but was forced to suspend it because of internal problems and a reluctant Argentina's proposals were far below the average of the other members, according to diplomatic sources at the time.
"We are committed to advance and work to speed events so we can reach an agreement in the minimum time possible, and we are not thinking of weeks or months but before a year is over. This is important since we already have free trade or association deals with Mexico, Colombia, Peru and Chile and we are talking with Ecuador. We would be most glad if we can sign an agreement with Mercosur".
Leffler also recalled that Mercosur and EU are all members of the World Trade Organization, and therefore any trade agreement must be compatible with WTO regulations, it must be extensive to all trade that is "90% or more of all exchanges. It's really about opening markets".
Finally and more specifically on Paraguay Leffler and the EU ambassador in Asunción Alessandro Palmero said that the country will be receiving in the next few years 168 million dollars in development and cooperation aid.
"Only two countries in South America receive EU cooperation: Paraguay and Bolivia and we are ready to advance in helping Paraguay in the fields of healthcare and education, which will receive 80% of all the cooperation", said Leffler who underlined the reciprocal confidence with Paraguay regarding the good use of that aid.