Relief: Sao Paulo subway workers reach a tentative deal and suspend the strike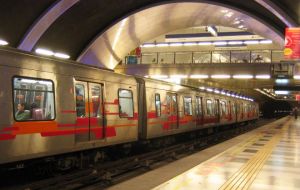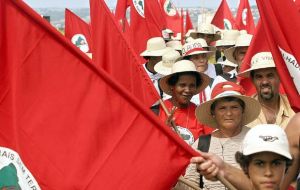 Subway workers have suspended a strike that crippled traffic in Brazil's biggest city, but warned they could resume their walkout on Thursday, when Sao Paulo hosts the first game of the soccer World Cup.
Fans arriving in the city earlier on Monday were met by daunting traffic jams and other delays after police used tear gas to disperse the striking workers. It was the fifth day of salary protests. Union leaders and local authorities are to renew negotiations on Wednesday.
The walk-out added to widespread concerns over whether Brazil's government can prevent street protests and other simmering labor disputes from disrupting the Cup, which starts on Thursday when Brazil and Croatia face off at a controversial new stadium on Sao Paulo's long-neglected east side.
The strike caused giant traffic jams again on Monday, creating huge delays for soccer fans trying to get into the city. Many waited for around two hours in lines for taxis at the city's international airport and spent another two or three hours to reach their hotels.
Sao Paulo, also Brazil's business hub, will host five matches after the opener, including a semi-final.
Brazil has drawn criticism at home and abroad for failing to complete key infrastructure projects on time. It is expected to put on a good World Cup, but many Brazilians are angry over how much was spent and how the country still struggled to be ready.
Police fired tear gas at metro workers at the city's Ana Rosa station on Monday morning, and the state metro company later said it had fired 42 striking workers. Union officials late on Monday said the success of continued negotiations, and any decision to resume the strike, would hinge on whether the dismissed workers are rehired.
A local court ruled on Sunday that the strike was illegal. Workers are pushing for a 12% pay rise, well above the company's offer of 8.7%.
Other groups, including teachers and bus drivers, have staged strikes in Sao Paulo in recent weeks to demand higher pay. Analysts say the city is becoming a battlefield for dissenting political views, hurting its economy and creating a climate of unease ahead of the World Cup.
Frustration with broken promises and the ballooning cost of new World Cup stadiums contributed to widespread protests that drew over a million Brazilians into the streets during a soccer tournament last year.
World Cup organizers got a boost on Monday, however, when the homeless worker's movement, which has organized most of the protests of recent weeks, said it had reached an agreement with the government and would not take to the streets during the tournament.