Brazil ready for an 'open arms' welcome like Christ the Redeemer statue pledges Rousseff
Wednesday, June 11th 2014 - 07:20 UTC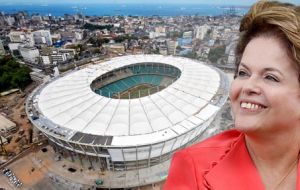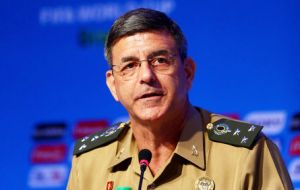 President Dilma Rousseff said Tuesday her country was ready to host the World Cup in two days, rejecting criticism of delays, overspending and chaos in the tournament's preparations. However organizing the cup was tough, but she insisted that the 12 stadiums were ready and told foreign fans that Brazil would welcome them with "open arms" like Rio's Christ the Redeemer statue.
"Brazil overcame the main obstacles and is ready on and off the pitch for the cup," she said in a nationally televised address.
"The pessimists... have been defeated by the hard work and determination of the Brazilian people, who never give up," she added, saying the tournament would leave a lasting legacy of infrastructure.
Construction of the stadiums and transport infrastructure was plagued by delays and cost overruns that left Brazil with an 11 billion dollars bill.
Workers were seen racing to finish up the opening game's stadium, the Corinthians Arena in Sao Paulo, just last weekend.
Spending on the tournament fueled sometimes violent protests last year over rising public transport prices and demands for the government to spend on hospitals and education instead.
The demonstrations have been smaller in recent months but the threat of more protests looms over the World Cup when Brazil opens the tournament against Croatia on Thursday.
"For any country, organizing a cup is like playing a game, sweating and often suffering, with the possibility of extra-time and penalty kicks," Rousseff said. "But the final result and celebration are worth the effort."
Anyway after years of construction delays, alleged corruption, infrastructure shortfalls and bickering with FIFA, Brazil is confident the Cup at the very least will be safe for the 2 million people expected to travel to games, outdoor viewings and other related spectacles.
Around 100,000 police officers are patrolling host cities, and President Rousseff has deployed 57,000 soldiers, sailors and other troops, coordinated jointly at command centers in each host city, in what is the largest mobilization by Brazilian forces in recent history.
The government is investing about 850 million dollars in overall security, which covers everything from protecting the 32 teams to containing possible street protests against the World Cup to airspace surveillance, be it with radar and air traffic systems or the constant flights of helicopters now buzzing host cities.
"The goal of Brazil with the Cup was to promote the country, to show off our cities, and to attract tourists," said General Jamil Megid, a government advisor, in a recent interview. "Every part of the police, military and intelligence forces have to work together, with an integrated command, in order to do that successfully."
In recent weeks, federal, state and local officials at the command centers in host cities have pored over contingency plans and rolled out the ramped-up security.
Soldiers were ordered to supplement squad security after striking teachers surrounded Brazil's own team when its bus passed through a protest two weeks ago. Police fired tear gas on Monday to disperse striking workers at a subway station in Sao Paulo, prompting complaints about tactics that during last year's demonstrations turned violent.