Colombia Sunday's election: a referendum on the peace talks with FARC
Friday, June 13th 2014 - 09:02 UTC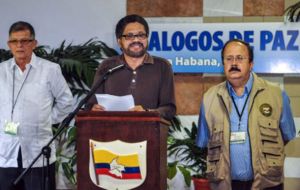 Colombians pick a new president on Sunday in a tight runoff election, kind of referendum, fought over whether peace talks with Marxist inspired and drugs financed guerrillas, or a renewed military offensive stand the best chance of ending 50 years of war in the country rich in resources and with one of the more stable economies in the region.
President Juan Manuel Santos and conservative challenger Oscar Ivan Zuluaga, both market-friendly former finance ministers, have divided the electorate over their different approaches to ending a conflict that has killed around 220,000 people and displaced another six million, since 1964.
It is Colombia's tightest election in decades. One of three polls published late last week put the candidates in a dead heat, while the other two gave a firm lead to one or the other.
Santos, who hails from one of Colombia's handful of aristocratic families, says the negotiations he began with the rebel leaders of the Revolutionary Armed Forces of Colombia (FARC) in 2012 offer a genuine chance of peace.
Despite significant progress in talks and the announcement of simmilar talks with FARC's smaller counterpart, the ELN (National Liberation Army), Zuluaga has won over a large swath of the electorate who doubt the rebels will disarm and walk away from a lucrative cocaine trade even if a deal is signed.
Zuluaga has said he would admit the peace talks but that guerrillas must declare a unilateral cease-fire if discussions are to continue. FARC leaders have rejected that, raising the chances that a Zuluaga victory would lead to a breakdown in talks and an escalation of the war.
Santos entered the race with a comfortable lead, but Zuluaga surged from third place and won most votes in the first round last month by inheriting some of the immense popularity of his party's leader, former President Alvaro Uribe. Santos has suggested Zuluaga would merely be Uribe's puppet.
Uribe significantly weakened the FARC during his 2002-2010 presidency with the help of the United States, wresting large swaths of the country back from rebel control.
The tight election race has grown increasingly bitter with corruption allegations surfacing against the candidates. Both deny any wrongdoing.
If Santos wins, his government must reach agreement with the FARC on the final two points of a five-point talks agenda: reparations for war victims and steps to end conflict. Any deal would be put to a referendum.
A Zuluaga victory will raise questions about how far he will go to keep the talks alive and, if they end, whether the military can root out the remaining hard core of more experienced FARC fighters.
However equally disturbing the first round did not attract 60% of the electorate that abstained from the ballot.