US Supreme Court decision of Argentina/hedge funds case delayed until Monday
Friday, June 13th 2014 - 08:26 UTC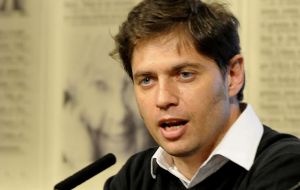 The US Supreme Court will reveal its decision on Argentina's request regarding litigation with the hedge funds case on Monday at 10.30am, after deliberating on Friday behind closed doors. A final outcome could arrive as late as next year though, if the judges decide to ask the US government for an opinion on the case before ruling.
The decision is to be taken by simple majority by the conference of the nine judges who made up the Court. An adverse verdict could set Argentina on the brink of default over the country's debt restructuring of 2005 and 2010.
Economy Minister Axel Kicillof said the administration of President Cristina Fernandez was "expectant" about a decision by the US Supreme Court that could bring same relief to Argentina if it agrees to take the case and further delay the dispute against the holdout hedge funds.
"If the (US) Supreme Court decided to take the case, it is would be a more favorable scenario but if it doesn't there are different scenarios," Kicillof admitted.
"We are expectant about the Court's decision. It has the opportunity to consult (the administration of President Barack) Obama and the Democrat government has in many ways expressed positions that coincide a lot with Argentina's judicial strategy; in that case, the scenario would be more favorable," the minister explained.
Facing a negative scenario, the head of Argentina's economic affairs said the Cristina Fernández administration will then have to address other legal possibilities if the case, for instance, falls back again on New York appeals judge Thomas Griesa.
Argentina is challenging a court judgment ordering it to pay 1.33 billion dollars to NML Capital Ltd and other holdout bond investors or face a potential default if it refuses to do so. These so called "vulture funds" refused the country's 2005 and 2010 debt restructuring.
Kicillof described the dispute as a "judicial adventure" that involves "lawyers and bankers that want countries to bankrupt by buying a worthless bond" and then demand to be paid off with "1,600% of profit".
However analysts believe the Supreme Court will call for the U.S. Solicitor General's views and this would likely delay the resolution of this case until the second quarter of 2015, which would be positive for Argentine assets. The US government position is that foreign countries assets in the US enjoy immunity, according to international law.
Although Cristina Fernandez on more than an occasion has vowed never to pay holdouts, Argentina's decision to adopt a less defiant tone with the court has fueled optimism it may get a more favorable ruling.
In effect Argentina said in a May 27 filing to the Supreme Court that it would comply with any ruling. This followed reports in Buenos Aires daily Clarin that one of the Argentine government's alternative plans was to ignore any decision contrary to the country's interests.