Colombian business community openly sides with Santos and the peace talks
Saturday, June 14th 2014 - 09:39 UTC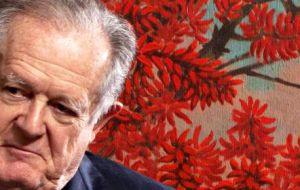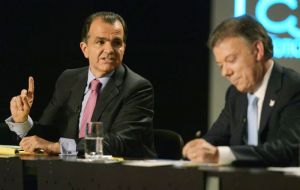 President Juan Manuel Santos' re-election bid received the backing of a large group of Colombia's most important businessmen and the country's wealthiest man, billionaire Luis Carlos Sarmiento Angulo, who spoke up in favor of ongoing peace negotiations with the FARC.
Financial mogul Nicanor Restrepo Santamaría, the former head of Bancolombia Jorge Londoño and prominent architect Pedro Gómez were among the two dozen businessmen that signed the open letter in support of Santos.
The businessmen praised the president's economic policies. "Your government is responsible for unprecedented economic results, including a rise in employment, a rise in foreign investment and excellent international relations," the letter said.
"We've considered Oscar Iván Zuluaga's proposals but we believe that Santos is the best choice for Colombians," it added.
The president and right-wing opposition candidate Zuluaga are neck-and-neck in competition ahead of Sunday's runoff vote, with polls split over who will win.
Zuluaga, who is backed by former president and strongman Álvaro Uribe, took more votes in the May 25 first round but Santos' alliance with leftist candidate Clara López and the announcement of exploratory talks with the ELN (the country's second-largest rebel group) could tilt the balance in his favor.
The runoff has been turned into a referendum on the peace process with the FARC, with Santos saying the talks will collapse if he is not re-elected.
Zuluaga, who had said he would suspend the negotiations if he got to the presidency, has rolled back on his promise and now says he will allow them to continue under tougher conditions.
Banker Sarmiento Angulo said that Colombia "needs to put an end" to five decades of bloody conflict. "I back the peace process, I like the peace process," he said.
The billionaire also referred to eventual negotiations with the ELN and said it would be "excellent news" for Colombia. "Imagine that the government reaches a deal with the FARC and then starts a new peace process, I think that is excellent," he said.
Polls show that Santos has more support in Colombia's war zones while Zuluaga has more backing in cities and pacified areas.