Argentina hopeful US Supreme Court will take the hedge funds holdouts case
Monday, June 16th 2014 - 05:34 UTC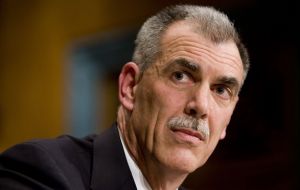 US Supreme Court is likely to issue a ruling in the upcoming months favoring Argentina's position in the country's dispute against hedge funds ('vulture funds'), anticipated former Argentine Finances Secretary Guillermo Nielsen.
The US top tribunal would first have to consult the White House on the default case, he pointed out, a decision that is expected to be announced on Monday.
"I have the hope that this will turn out positively," Nielsen told reporters adding that he was under the "impression" that the Supreme Court of the United States would be allowing a "consultation" by the US Prosecutor General Donald Verrilli.
In an interview with a radio show in Buenos Aires, the ex official pointed out that the General Prosecutor Office of that country had "already" backed Argentina's stance. "Logic says that if the (Prosecutor Office) is consulted it will have a similar position and that it is likely the Supreme Court follows that same vision," he explained.
"The Prosecutor had already said something like that debt restructurings need payment mechanisms to not be tied to embargos following the decision of the people that accepted the debt swap. It is a position against holdouts," Guillermo Nielsen stressed in reference to Argentina's creditors that did accept the debt swap back in 2005 and 2010.
The same debt restructuring that the hedge funds now suing the country over its defaulted bonds more than a decade ago in a 1.3 billion dollar dispute, have rejected.
According to Nielsen, the investment scenario in Argentina has changed facing the 2015 general elections. "If there will be a change in politics it is probable that there is a change in economic policies," he considered.
This Monday the US Supreme Court will decide whether it accepts to hear Argentina's case. The magistrates began the debate behind closed doors last Thursday.