Irish farmers fear 'decimation' from a Mercosur/EU trade agreement
Monday, June 16th 2014 - 06:32 UTC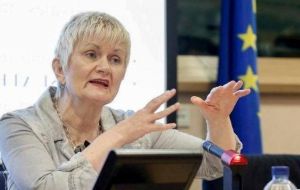 The determination of European Commission President Manuel Barroso to conclude a deal with Mercosur before he leaves office posed a severe threat to Ireland's interest, Independent MEP Marian Harkin has warned in a piece reported by Irish Independent.
Ms. Harkin said that now the European Parliament elections were finished President Barroso would be engaging in an intensive attempt to reach an agreement with Mercosur countries in which the interests of Irish and European agriculture would be sacrificed.
"Nobody should be under any illusion as to the powerful industrial interests who are lobbying hard for an EU-Mercosur deal which, as of now, would mean an unacceptable level of access to the EU market for agricultural produce," she said.
Ireland's vitally important beef export trade would be decimated by any concessions which would allow high value prime beef cuts into Europe. "Any concessions to South America and the USA on this issue had to be strongly rejected," Ms. Harkin insisted.
Mercosur, which includes Brazil, Uruguay, Paraguay, Venezuela and Argentina, is believed to be finalizing its proposal on the impending trade deal.
Sources in Brussels suggest that offer could be ready by the end of June. The IFA (Irish Farmers' Association) has called on the Taoiseach (Parliament) to intervene to prevent the summary conclusion of a trade deal by the outgoing Commission.