Pacific Alliance wants to 'expand influence' through cooperation with other groups
Monday, June 16th 2014 - 06:58 UTC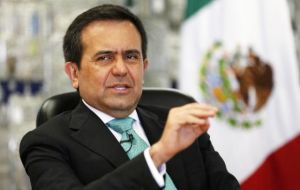 The Pacific Alliance will try to 'expand its influence' through agreements with other blocks to improve cooperation in different fields while targeting a "wider integration" in the region, said Mexico's Economy minister Ildefonso Guajardo. The Alliance is holding its summit this week in Punta Mita, Mexico when the chair of the group will pass from Colombia on to Mexico.
Among the main issues that the group made up of Chile, Peru, Colombia and Mexico will be addressing is defining the "different cooperation mechanisms" with observer countries which add up to 32, including Mercosur members Paraguay and Uruguay.
"The idea is that those countries not only observe but that they announce where they stand regarding the Alliance commitments and visions, and in which specific integrating areas they are prepared to advance", said minister Guajardo.
For example, "if we are working on how to improve the functioning and development of the small enterprises, maybe some of the observers would like to be members of that committee or work group, so that overall we can improve their functioning".
To improve the Alliance's area of influence, "we need to mirror other groups, such as Mercosur or Asean, Association of South East Asian Nations".
And more specifically regarding Mercosur, "one of the main concerns" of (Mexican) president Enrique Peña Nieto and his colleagues from Brazil, Dilma Rousseff and Argentina, Cristina Fernandez is "the very low degree of regional integration we have in our productive chains, differently to what happens with North America", added the Mexican minister.
For that purpose "it is necessary to establish mechanisms that facilitate, in such a way that we can improve the degree of added value integration", since "we believe that these closer links can lead to a broader integration".