Santos and his promise of peace wins the run off in Colombia
Monday, June 16th 2014 - 07:04 UTC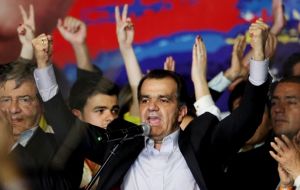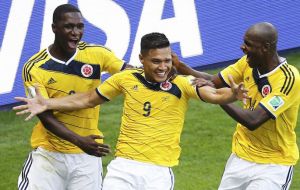 Incumbent President candidate Juan Manuel Santos was reelected by a margin of over 5 percentage points in the second round of Colombia's's elections, defeating conservative Democratic Center candidate Oscar Ivan Zuluaga, who concede defeat and congratulated the winner.
According Colombian national election authorities, Santos won 50.92% of the vote and Zuluaga 45.03%. Santos won in the capital Bogotá, a change from the first round of elections, when he placed third. Santos also took the most votes in those regions most affected by guerrilla groups, including the states of Putumayo, Nariño, Cauca and Norte de Santander.
Zuluaga with his 45.03% won in most states from the coffee-growing region, including the Uribe-supporting state of Antioquia, in addition to states in the Llanos, Colombia's grassland states.
Former president Alvaro Uribe was the master mind behind Zuluaga's campaign.
Santos campaigned strongly in support of the ongoing peace process with the country's largest rebel group, the FARC, in Havana, Cuba. His campaign slogans in the second round were, "With peace, we will do more," and "We've done a lot, there is still a lot to do," reflected in his policies that highlighted the achievements of his administration in addition to making promises about the second term.
Santos accused Zuluaga during debates of wanting a "war without end", while he underlined his commitment to the peace process. The Colombian government also recently announced a formal peace process with the second-largest rebel group in the country, the ELN.
The first round of elections, held May 25 of this year, had Oscar Ivan Zuluaga winning with 29.25% of the vote and Juan Manuel Santos received 25.69%. Since no candidate received more than 50% of the vote, a second round of elections is mandated by law.
Santos received the support of a broad spectrum of Colombian politics, ranging from far-left to far-right, and the business community, all pointing out their hopes for a successful end for the peace process the Colombian president had started during his first mandate.
The business community also added the excellent management of the Colombian economy which has been growing steadily despite the war with the guerrilla groups that started almost half a century ago.
In the 2010 presidential election, then former Defense minister Santos had the support of former President Alvaro Uribe, although he quickly broke with Uribe after warming up to neighboring Venezuela and Ecuador.
Uribe started his own party in January of 2013, the Democratic Center Party, which nominated Oscar Ivan Zuluaga as its candidate for the 2014 presidential elections.
Political analysts point out that Sunday's election day mood was boosted by the Colombian national team performance on Saturday defeating Greece, 3 to 0.