Support for Argentina's 'Malvinas question' in the G77 plus China summit
Monday, June 16th 2014 - 05:38 UTC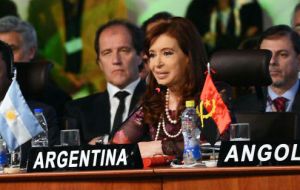 The G77 plus China extraordinary summit which took place in Bolivia over the weekend approved two statements in support of Argentina's position in the 'Malvinas Islands question' and a second referred to the current conflict with holdout hedge funds, a long running litigation that has reached the US Supreme Court. Argentine president Cristina Fernández attended the Santa Cruz de la Sierra event.
The statement on the Malvinas question introduces a new concept: allegedly the current situation "seriously harms the economic capacity of Argentina".
"We reaffirm the need for the governments of Argentina and the UK to resume negotiations on the 'Malvinas Islands question' in conformity with the principles and objectives of the United Nations and pertinent resolutions, so as to find a timely, peaceful solution to the sovereignty dispute related to the 'Malvinas Islands question', which seriously harms the economic capacity of Argentina, and the need for both sides to abstain from making decisions that involve the introduction of unilateral modifications to the situation, while the Islands are in the middle of the process recommended by the UN General Assembly", reads the Falklands/Malvinas paragraph.
"We also recall that in previous decades and in recent years the management of sovereign debt has been a crucial issue for developing countries. Lately a new concern has emerged related to the activities of the vulture funds. Some recent examples of vulture funds actions before international tribunals have exposed their extremely speculative character. These funds have become a danger for all future debt restructuring processes, both for developing countries as for developed countries. Thus we reiterate the importance of not allowing that these vulture funds paralyze the debt restructuring activities of developing countries nor that they impede these States their right to protect their peoples in accordance with international law".
The summit of G77 leaders plus China wrapped up Sunday with a call for an end to poverty by 2030 and also set goals for sustainable development and national sovereignty over natural resources.
The extraordinary summit was held on the 50th anniversary of G 77.