Falklands gas condensate discovery shows potential for wider distribution
Wednesday, June 18th 2014 - 08:15 UTC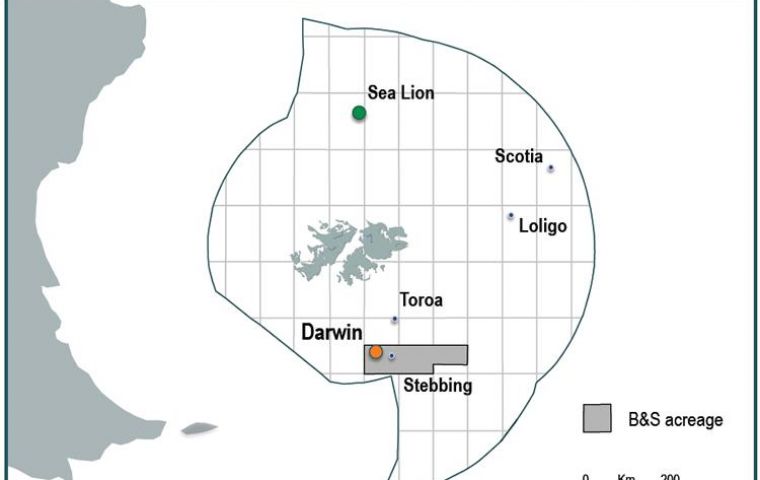 Borders & Southern Petroleum PLC said on Tuesday that new data on the Darwin gas condensate discovery in the Falkland Islands show the potential for wider hydrocarbon distribution.
The Falkland Islands-focused oil and gas exploration company said that new data, from enhanced seismic data, has confirmed its previous interpretation of the potential distribution of hydrocarbons over Darwin East and West.
It said its new base case model estimates a wet gas in place of 2.6 trillion cubic feet and the recovered condensate of 263 million barrels, up from previous estimates, which it said was due to improved net pore volume and an improvement in fluid recovery. The company said that its new base case estimate of recoverable condensate of 263 million barrels is dependent on successful appraisal wells.
However, this resource assessment only includes the reservoir interval encountered in the discovery well on Darwin East.
"Our seismic interpretation indicates that Darwin West is structurally higher than Darwin East and that two additional potential reservoir intervals below the main reservoir, each displaying amplitude conformance to structure, may be encountered. These additional potential reservoirs do not extend over the whole structure, but nevertheless could add further to the total recoverable resource depending on their thickness and quality".
The company operates and has a 100% interest in three production licences in the South Falkland Basin covering an area of nearly 10,000 square kilometres. It has acquired 2,862 kilometres of 2D seismic, 2,517 square kilometres of 3D seismic and drilled two exploration wells, making a gas condensate discovery with its first well.