Colombia-Brazil consider closer links between Pacific Alliance and Mercosur
Friday, June 20th 2014 - 06:34 UTC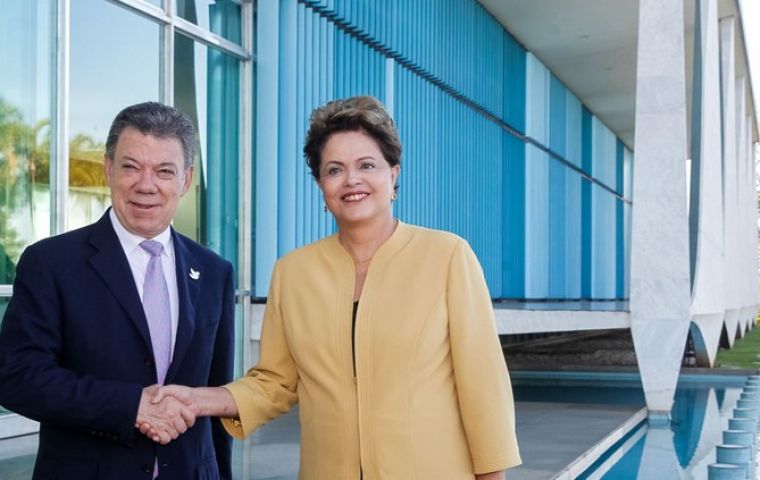 Colombia and Brazil's presidents Juan Manuel Santos and Dilma Rousseff met in Brasilia to address regional and bilateral affairs and the possibility of closer links between the Pacific Alliance and Mercosur, which "are naturally complementary and do not compete among themselves".
"The Alliance was not created to challenge, and a synergy with Mercosur would be very positive and most welcome", said Santos who added that Brazil and Colombia are interested in closer links since the two groups are naturally complementary and do not compete among each other".
Santos met Rousseff at the official Alvorada Palace, ahead of the Pacific Alliance IX summit which is scheduled to begin Friday in Mexico. Joining Mercosur and the Alliance would make the two groups stronger and give a boost to Latin American integration, said Santos.
The Alliance has four founding members, Chile, Colombia, Peru and Mexico, and several other countries interested in joining, while Mercosur is made up of Argentina, Brazil, Paraguay and Uruguay with Venezuela the latest incorporation, but has been stalled for some time.
The two leaders also spoke about the current peace process with the FARC guerrilla and the soon to start with ELN, which for the moment are "confidential since we are in an exploratory path, but on a good track and the right direction".
Santos praised Brazil for its standing support of the peace process in Colombia and its logistics contribution when the liberation of hostages held by FARC. The exploratory talks are been sponsored by Brazil, Chile, Cuba, Ecuador, Norway and Venezuela.
Finally the two leaders talked about bilateral trade which last year reached 4.3 billion dollars, and reciprocal investments. Santos also had praise for Brazil and President Rousseff for the superb organization of the World Cup. The president was in Brazil to support the national team which on Thursday defeated Ivory Coast.