Uruguay advances details of third oil and gas bid round Punta del Este basin
Friday, June 20th 2014 - 06:50 UTC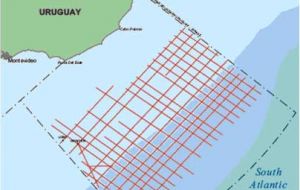 Uruguay has released a draft map of four ultra-deepwater and seven shallow-water blocks in the Punta del Este-Atlantic basin that will be on offer in the country's third oil and gas bid round next year, officials said in Moscow this week, according to the oil and gas site Upstream.
Uruguay is hoping to follow in the path of its 2012 bid round which drew 1.5 billion in investment from global explorers including France's Total, the UK's BP and BG Group, officials with state oil company Ancap said at the 21st Annual Petroleum Congress.
"We are seeing lots of prospectivity in deep-water areas," Bruno Conti, exploration geologist with Ancap, told an audience at the event.
The full details of the offering will be released by year's end with the round itself scheduled for mid-2015. Road shows are planned for London, Houston and Rio de Janeiro.
Uruguay has no oil production at present and no proven resources. Only two offshore wells have ever been drilled in the country's waters, the Lobo-1 and Gaviotin probes drilled and plugged by US super-major Chevron in 1976.
Total is scheduled to drill its first deep-water wildcat in the latter part of 2015.
Uruguay is among the frontier plays off South America's Atlantic coast that have attracted the attention top players given potential analogues to major discoveries off west Africa, a list that also includes the Pelotas basin off the southern coast of Brazil and the country's equatorial margin to the north.
"Success in Uruguay offshore would be an important play-opener for the rest of the south Atlantic margin," Conti told a technical panel on the country's geology at the conference.
The Orange and Walvis basins in Namibia, as well as areas off south Africa, are believed to be the closest analogues for Uruguay and surrounding potential plays.
Ancap aims to target potential structural and stratiographic traps in Cretaceous-age turbidite systems, also inviting comparison with Brazil's prolific pre-salt Santos basin.
"We don't have the same thick salt layer but we are confident the source rock is present there," Conti added.
Historic seismic data is scarce but companies have been working to change that. Companies including PGS, Spectrum, Ion and Fugro have collected a total of 38,300 square kilometers of data in a flurry of surveys since the country's first bid round in 2009.
Ancap has also shot its own seismic, including a round in ultra-deep areas up for consideration, and is in discussions for more contracts, Conti said.
Terms are expected to be comparable to earlier rounds, but Uruguay will extend the exploration period to four years for ultra-deepwater blocks in water depths from 3000 to 4000 meters of water. And Ancap has registered interest despite the challenging and unproven nature of the play.
Ancap's involvement is through a production-sharing model which allots Uruguay a total take of about 30% to 35%.
The next step of exploration beyond that well is yet to be seen. Companies, starting with a consortium led by Argentina's YPF in 2014 followed by more players in 2015, will have to decide whether to move to a second phase of exploration that would require the drilling of two wells, Conti said.