UKAH marks 70th anniversary of Operation Tabarin and Antarctica research
Monday, June 23rd 2014 - 22:06 UTC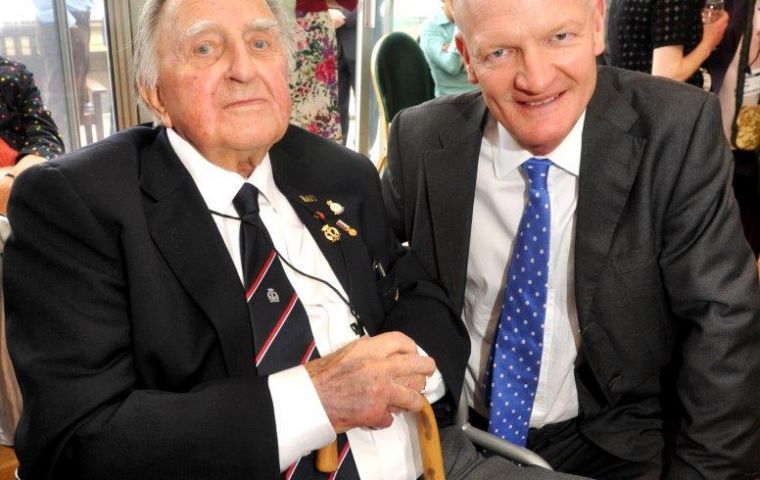 The United Kingdom Antarctic Heritage Trust (UKAHT) marked the 70th anniversary of Operation Tabarin, which laid the foundations for one of the most important and enduring government sponsored programs of scientific research in the Polar Regions, with a special exhibition and reception at the House of Commons.
UKAHT conserves early British scientific bases and artifacts in Antarctica and promotes and encourages public interest in Antarctic heritage both at home and abroad.
UKAHT now works to ensure that the legacy from this heroic age of exploration and scientific endeavor remains to inspire current and future generations.
Supporters and MPs from across the UK gathered in the Terrace Pavilion at the House of Commons on Monday afternoon (16th June) for a special reception to help UKAHT commemorate 70 years of continuous British presence in Antarctica.
Monmouth MP David TC Davies hosted the event and was joined by the Rt Hon David Willetts MP, Minister for Universities and Science in officially opening the reception.
Mr Davies said: "I'm especially pleased that Wales has such a strong connection with Antarctica and extremely proud of the fact the Trust Director is based here in Monmouthshire.
"Wales has a very important Antarctic story to tell and this remarkable charity is keeping it alive today."
Included within the guests was George James one of the last survivors of Operation Tarbarin. George was a wireless operator on a support vessel, HMS William Scoresby. Now 90 years of age, George attended with his two sons and grandson.
The reception also introduced the forthcoming BBC Natural World documentary 'Penguin Post Office' filmed on the Antarctic Peninsula earlier this year. UKAHT runs the world's most southerly public post office on behalf of the Government of the British Antarctic Territory at Port Lockroy.
Around 70,000 cards are posted each year from the post office by visitors to over 100 countries.
Donald Lamont , Chair of UKAHT, added: "We are proud to celebrate what has been achieved through the restoration of Port Lockroy, one of the stations built during 'Operation Tabarin', instigated by the political decision taken in 1943 to open three stations in the Antarctic Peninsula. It is now the most visited sites in Antarctica, and will reach an even wider audience through the filming that was carried out this season for broadcast later this year".