Argentina's bond fight with holdouts will be addressed by G-77 plus China
Tuesday, June 24th 2014 - 23:30 UTC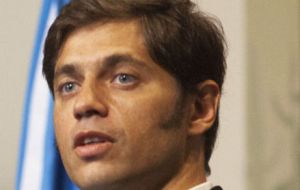 Argentina's bond fight against holdout hedge funds will reach the United Nations headquarters on Wednesday when Economy Minister Axel Kicillof addresses the G77 plus China 134-nations plenary on Argentina's debt restructuring process.
According to a statement released by the Argentine Foreign Ministry, Kicillof has been officially invited to the UN headquarters in New York by the president of the Group of 77 and China ambassador Sacha Llorentty Solis.
The meeting has been scheduled for Wednesday 25 and is expected to start at 4 pm Buenos Aires time.
"Foreign Minister Héctor Timerman will present Minister Kicillof who will refer to the sovereign debt restructuring, the recent judicial decisions and the actions that the Republic of Argentina carries out. Likewise, he will analyze along with the representatives of the G77 and China the repercussions that the resolution of the matter will have on developing countries' debt restructurings and on the financial system in general," the office run by Timerman informed on Tuesday.
"It is worth pointing out that the G77 plus China is a group of developing countries that agree positions on economic and social issues," the statement adds and refers to the recent summit held by the intergovernmental organization in the Bolivian city of Santa Cruz where Buenos Aires rallied strong support among regional allies.
"We reiterate the importance of not allowing vulture funds to paralyze the activities of the debt restructuring in developing countries nor that they deprive states of their right to protect their people in compliance with international law".