Argentina announced Thursday it had deposited restructured bonds' payments
Friday, June 27th 2014 - 07:53 UTC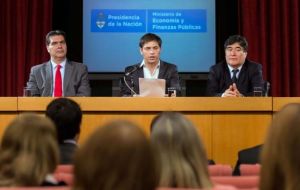 Argentina announced on Thursday morning it had deposited a billion dollars to honor restructured bonds' 30 June payment and at the same again asked for a new stay from New York Judge Thomas Griesa on the 'pari passu' ruling that forces the country to also pay holdouts 100% of defaulted bonds face value.
Most of the money was deposited at the Bank of New York Mellon and regarding the possibility that those funds could be seized by the holdouts that are demanding 1.5bn dollars in principal and interest, Economy minister Axel Kicillof next to Cabinet chief Jorge Capitanich and the Legal and Technical Secretary of the Argentine president, Carlos Zanini, read a statement warning that "consequences of those actions (seizure) will rest upon the United Nations because of the international responsibilities relating to its Judicial branch decisions".
"Argentina in compliance with the prospect and the current contract with holders of restructured bonds that voluntarily accepted the debt swap in 2005 and 2010 has made payments on capital and interest of its bonds under foreign law equivalent to 832 million dollars", said Kicillof. Overall payments are close to a billion dollars, of which 832 million are ruled by foreign law".
"Of that total, 539 million was deposited in the accounts ... of the Bank of New York Mellon at the Central Bank of Argentina," Kicillof said, adding that the rest of the 832 million had been deposited by way of other financial institutions.
"Not paying when having the resources is something that is not contemplated in Argentine law. This payment is done based on a sovereign decision from Argentina".
Kicillof said that the Argentine government will honor its obligations with international creditors despite the 'absurd' decision from New York judge Thomas Giresa which benefits "the global usurers". Nevertheless Argentina ratifies its purpose of "honoring 100% of debts with creditors".
The minister said that Argentina's solicitors had again requested Judge Griesa for a stay action, suspending the ruling favoring holdout hedge funds that are litigating against the country in US law courts.
He added that payment to 2005 and 2010 restructured bondholders must be done a working day before maturing day (June 30) but in Argentina this Friday is national holiday at federal level bureaucracy because of the "Government Worker Day".
The minister praised the international support Argentina has rallied over the past weeks in its 1.5bn dollar dispute with holdouts.
"It comes clear that this support means to acknowledge the logic and fairness of our demands and the systemic impacts these rulings will have," Kicillof said and reaffirmed Argentina's "commitments to serve its debts with 100 percent of creditors in fair and legal conditions."
Griesa denied Argentina's stay request about an hour after Kicillof said the deposit had been made.
Argentina however will have a 30-day grace period to strike a deal with the holdouts before falling into technical default. But there is a technical controversy whether those funds deposited in foreign bank accounts can be seized since they have ceased to be Argentine assets as such.
Meanwhile and following the announcement made earlier by Kicillof who informed payment of more than a billion dollars to restructured bondholders, President Cristina Fernandez used her Twitter account to say "Argentina pays."
Minutes after the press conference the president tweeted this comment, with a link to the communiqué about the payment released by the Economy Ministry.