Falklands vessels with flags at half-mast in remembrance of World War I
Saturday, June 28th 2014 - 01:49 UTC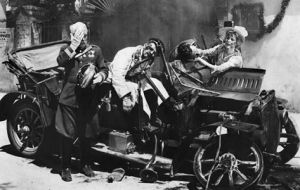 Falklands' Master Malcolm Jamieson has requested that vessels in Falklands harbours and Falklands registered vessels at sea, lower flags or ensigns to half-mast on Saturday 28 June to indicate mourning in remembrance of World War I.
Additionally vessels in harbours of the Falklands should sound a signal at the designated time of 14:00 Stanley time / 1700 GMT being the hour that the first shot was fired to mark the centenary.
Both ships of the British Antarctic Survey have advised that they will comply with the request, so Falklands' registered ships will mark the outbreak of the war in the North Atlantic and the UK as well as here in the Islands.
The event follows the Secretary General of the International Maritime Organisation (IMO) receiving a request from the United Nations Educational, Scientific and Cultural Organisation (UNESCO) to assist and cooperate in implementing an initiative to commemorate the event that triggered the First World War.
This request has been distributed by a variety of agencies and organisations to amongst others, ship owners, port authorities and Masters of ships.
On 28 June 1914, Archduke Franz Ferdinand of Austria, heir presumptive to the Austro Hungarian, to the throne, and his wife, Sophie Duchess of Hohenberg, were shot dead in Sarajevo by Gavrilo Princip, one of a group of six assassins (five Serbs and one Bosnian Muslim) coordinated by Danilo Ilic.
The political objective of the assassination was to break off Austria-Hungary's south-Slav provinces so they could be combined into a Yugoslavia. The assassins' motives were consistent with the movement that later became known as Young Bosnia.
The assassination led directly to the First World War when Austria-Hungary subsequently issued an ultimatum against Serbia, which was partially rejected. Austria-Hungary then declared war, marking the outbreak of the war.