Venezuela blackout interrupts live-television broadcast from President Maduro
Saturday, June 28th 2014 - 10:36 UTC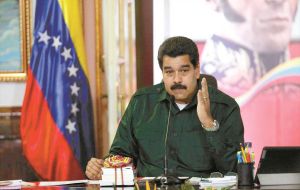 A blackout cut electricity in various parts of Venezuela on Friday and twice interrupted the live television broadcast of a speech by President Nicolas Maduro, who said authorities were seeking more information about the outage.
Venezuela has suffered an increasing number of power outages in recent years, which critics have attributed to low electricity tariffs and limited state investment following the 2007 nationalization of the power sector.
"It seems like there are some problems, we are going to investigate the problems we are having with electrical service in some parts of the country," Maduro said in the speech.
Television screens froze for several seconds during the broadcast of the awards ceremony for a national journalism prize. The words "It looks like the power went out" were audible in the background.
Power was cut off in parts of the capital Caracas, while Twitter users reported outages in other parts of the country, including Maracaibo, Venezuela's second city, and the industrial center of Valencia.
Local media reported most lines on the Caracas underground metro had been halted by the power outage.
A representative of state oil company PDVSA said he had not received any reports of the oil industry being affected.
State power company Corpoelec and the Electricity Ministry did not make any comments on the situation.