Bachelet delays trip to Washington to receive national football team
Monday, June 30th 2014 - 02:40 UTC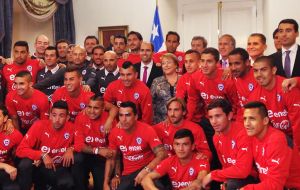 Chilean president Michelle Bachelet welcomed the national football team at Government House on Sunday afternoon thus delaying for a few hours her trip to the United States where on Monday she is scheduled to meet with President Barack Obama at the White House.
"These players are an example of strength, courage and grit" said the Chilean president who also gave a copper souvenir to each player, coach and members of the delegation that arrived from Belo Horizonte where they were eliminated from the World Cup following a knock-out match with host Brazil.
Thousands of Chilean fans turned out to receive the national team as it was driven from the Santiago airport to the La Moneda Palace where a crowd had also gathered in the square for the welcome.
Several players had selfies taken with the president and immediately aired them in the social nets.
"We now have an opportunity with the Americas Cup (hosted by Chile) and I'm sure greater efforts will be involved to reach Russia (2018). You deserve the love and pride with which the people of Chiles has received you. On Saturday you played marvelously, you should have won", said Bachelet addressing the players who later appeared in the balconies of the palace to the delight of an estimated fans 8.000 fans gathered at Constitution square.
Saturday witnessed a nail-biting confrontation between the two Round-of-16-worthy teams, when Chile came from behind to arrive at a 1-1 draw against the hosts. The tie forced the game into penalty shootout, which saw Brazilian goalie Julio César saving two penalty kicks for his team.
The Chileans had eliminated title-toting Spain and managed a swashbuckling win over Australia in the group stage.
"Chile have been one of the great teams of this World Cup without a shadow of a doubt. Today luck was on our side and not theirs, but they deserve all the praise imaginable," Brazil defender Dani Alves said.
"The way they are able to put pressure on the opposition defense is simply amazing", he added,
Santiago's La Tercera newspaper wrote, "The dream is over, but not the applause." "Dry your tears and come back to Chile to be received with full honors".