OAS Permanent council expected to consider Argentina/hedge funds conflict
Monday, June 30th 2014 - 05:47 UTC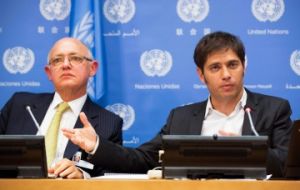 The Argentina litigation with holdout hedge funds will have an additional ingredient this Monday when the Organization of American States, OAS, Permanent Council holds an extraordinary session, on a special request from Argentina, to consider a consultation meeting of foreign ministers to address the issue of sovereign debt restructuring.
The OAS Permanent Council has called for a special meeting to consider the request of Argentina "to convene a meeting of consultation of ministers of foreign affairs on Thursday, July 3 at 3:00 p.m., at the headquarters of the Organization in Washington, D.C., to consider the topic 'Sovereign Debt Restructuring: The Case of Argentina and Its Systemic Consequences', on which reports will be presented by the Minister of Foreign Affairs of Argentina, Héctor Timerman, and the Minister of Economy and Finance of Argentina, Axel Kicillof".
Earlier this month the US Supreme Court refused to address Argentina's case so the litigation went back to Judge Thomas Griesa who lifted a stay order which means Argentina must pay holdout hedge funds, or vulture funds, 1.3bn dollars plus interest in bonds dating back to the Argentine default of 2001.
Argentina has argued all along that payments demanded by the speculative funds will force the country to again default particularly if the pari-passu order stands. This means that if Argentina pays the restructured funds as should take place on Monday 30 June with a month grace (30 July), the speculative must be also fully paid.
The catch is that the restructured bonds, which represent 93% of the original defaulted debt, also have a standing RUFO (Right under final offer) clause until the end of 2014, which states that if other bond holders are paid differently, they can also demand.
Argentina in 2005 and 2010 managed to convince 93% of its defaulted bonds to restructure with a significant 'hair cut', while the remaining 7% of holdouts are demanding full face payment.
Judge Griesa ruling favors the holdouts but he has also insisted that the two sides sit down and negotiate some form of payment taking into account all considerations and for this he named a special mediator expert in financial dealings, Daniel Pollack.
But apparently these talks have not advanced, if they have effectively started, since Argentina's strategy seems to be putting the blame of any possible default in the US justice system, despite Argentina's repeated 'willingness to pay" displayed with great full page adds in UE and European media, and this shown by depositing the funds in a US bank, but only sufficient to pay the restructured debt.
Argentina is also intent in mustering international support from different organizations, (such as OAS, G 77, Mercosur, Unasur, Celac, some UN bodies and independent groups), political in nature, to try and change the course of events to its favor, that is treating holdouts in the same way as the rest of 93%.
But so far US Justice with Judge Griesa has not yielded and insists on negotiations between holdouts and Argentina, while at the same time ordering the US bank involved, to return the deposited money to Argentina.