Prince Harry ends his three-day visit to Chile
Monday, June 30th 2014 - 02:44 UTC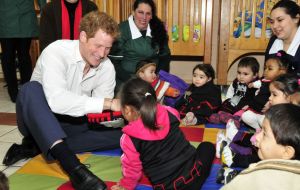 Britain's Prince Harry, on the last day of a three-day official visit to Chile, joked and played with handicapped children on Sunday. The prince, joined by Social Development Minister Maria Fernanda Villegas, was all smiles and appeared relaxed with the little ones at the Friends of Jesus children's facility.
It was the second visit the prince made to a children's centre on this visit, after meeting young people at a shelter on Friday.
Prince Harry did not seem limited by the language barrier in meeting and playing with the youngsters with a range of disabilities and disorders. He toured fire-ravaged areas of the port city of Valparaiso on Saturday, and met with families who lost their homes in a recent blaze.
The prince also met with firefighters of the 11th Fire Company (the British volunteers), representatives of the city's other fire services and members of the British community.
The 29-year-old prince met briefly Friday with President Michelle Bachelet at the ornate La Moneda palace in the capital Santiago and later attended the Queen's birthday party at the British embassy in Santiago.
Harry, an army captain who is fourth in line to the British throne, arrived in Santiago late Thursday after a three day visit to Brazil which included watching the England football team play out a 0-0 bore draw against Costa Rica on Tuesday in its last game of a disappointing tournament.
It was Harry's second visit to Brazil but his first to Chile.
The prince recently made headlines with his party-going antics at a wedding in Memphis, Tennessee, and there has been intense speculation about his private life after his split from girlfriend Cressida Bonas.