Obama and 'second favorite Michelle' exchange praise at the White House
Tuesday, July 1st 2014 - 08:16 UTC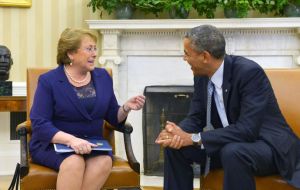 President Barack Obama and Chilean President Michelle Bachelet pledged to work together to strengthen the ties between both nations, including projects on energy, education and free trade. Obama met in the Oval Office on Monday with Bachelet, whom he called his second favorite Michelle.
A White House statement about the meeting said the presidents discussed the 2004 U.S.-Chile Free Trade Agreement (FTA), as well as security in Latin America, educational exchanges and a solar power plant in the South American nation.
In a statement, the White House noted that the "tremendous success in increasing exports and economic opportunities in our two countries."
"Since the FTA entered into force ten years ago, two-way bilateral trade has grown to 28 billion," it said. "U.S. goods exports to Chile have increased by 545% and U.S. goods imports from Chile have increased by 180% since 2003."
"Based on our shared commitment to open markets and high standards for trade and investment, the United States and Chile are now working together, along with ten other countries, to complete the Trans-Pacific Partnership negotiations," the statement said. "The TPP will build on our FTA and extend ambitious 21st century trade and investment rules that will open markets for U.S. and Chilean exporters."
Bachelet praised the relationship between the two nations.
"We are commemorating 10 years of the free trade agreement from the U.S. and Chile," said Bachelet in a press conference at the White House. "And the U.S. is our, I would say, our most important foreign investor. We want to continue that path."
Obama told reporters as the meeting got under way about the collaboration on clean energy, including a major solar facility to help meet Chile's energy needs.
Bachelet was elected president in March. She previously served from 2006 to 2010 and was Chile's first woman to be elected head of state. Obama joked that she is his "second favorite Michelle," presumably after the first lady.
Obama says they also were discussing regional security and other issues before the United Nations Security Council. Chile is one of the non-permanent members of the council this year.