Uruguay received 237 cruise calls in 2013/14 with 409.367 visitors
Tuesday, July 1st 2014 - 07:50 UTC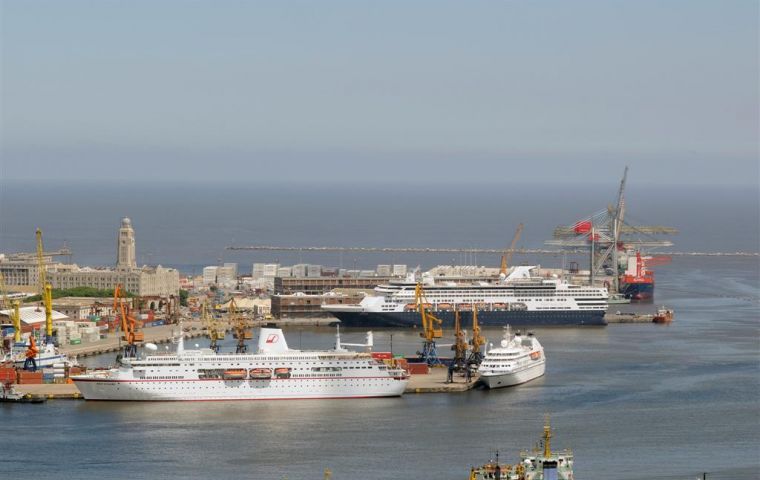 During the 2013/14 season, 237 cruise vessels called in Uruguay's two main ports, Montevideo and Punta del Este, with 409.367 visitors, a 6,3% increase in calls over the previous season, according to a report released by the country's presidential web-site.
The official stats from the Uruguayan government indicate that the visitors spend an estimated 19 million dollars which works out at 47 dollars per capita. A majority, 45.5% were from Brazil and 29%, Argentine.
The cruise season is taken from October to April and in this last report, of the 237 cruise calls, 121 arrived in Montevideo and the remaining 116 to Punta del Este. Of the total number of visitors, 183.523 landed in Montevideo and 225.844 in Punta del Este. The 30/64 age group was the most numerous with 296.124 visitors, representing 72.3% of the total.
The total number of calls was up 6.3% over the 223 of the previous period.
According to an opinion poll involving 4.300 visitors in both cities, in Montevideo what most impressed visitors (21%) was "the people, their warmth and service", while in Punta del Este, 22.7% underlined the beaches, the coast and the promenade along the peninsula.
Money spent by visitors was estimated at 19.15 million dollars of which, 8.7 million in Montevideo and 10.48 in Punta del Este, with shopping (10.6 million) (55.6%) and food (4.9 million) (25.5%) the items in which most funds were invested. Per capita expenditure of 47 dollars was 2.2% higher than in 2012/13 season.