Falklands mints £2 coin to mark centenary of 1914 Battle of the Falkland Islands
Wednesday, July 2nd 2014 - 07:17 UTC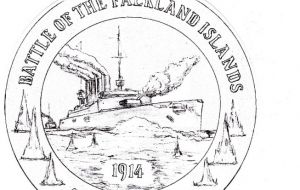 The Falkland Islands Government have minted a new circulatory £2 coin, to mark the Centenary of the Battle of the Falkland Islands in 1914.
The coin, minted by Pobjoy Mint in the United Kingdom was out into circulation last 28th June 2014 – precisely 100 years to the day since the events which triggered the First World War. The coin depicts HMS Glasgow in battle, with the wording 'Battle of the Falkland Islands' and the coin's denomination in the surround. The date, 1914, also appears in the sea.
An initial supply of the coins has been received in the Falklands Islands, with a further shipment arriving later in the year to coincide with the centenary celebrations in the Islands. 200 of the coins will be issued through Standard Chartered Bank in normal circulation. An additional 200 coins will be available for collectors to purchase from Phil Middleton.
Chair of the 1914 Committee, Phyl Rendell, was enthusiastic about the coins' release.
'The Battle of the Falklands is an important part of Falklands history, and of the narrative of the First World War, and I am pleased that these coins will be in circulation to commemorate this chapter of our past.
We chose the 28th June as a release date to coincide with anniversary of Archduke Franz Ferdinand's assassination, the date which sparked the events which would lead to the First World War and the Battle of the Falklands.'