Argentine car production and exports fall, impacting on trade with Brazil
Friday, July 4th 2014 - 07:39 UTC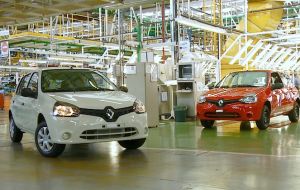 Argentina's vehicle production reached 50,904 units in June according to the Automobile Factory Association (ADEFA), 19.8% less than the 63,461 units manufactured in the same month of 2013. Taking into account the first 6 months of 2014, production fell 21.8% compared to the same period of 2013.
As to exports the automobile sector sold 34,418 units abroad in June, 19.2% less than June 2013, but 14.2% more compared to May 2014.
The head of ADEFA Enrique Alemañy said that recently announced measures like ProCreAuto (cheap credit) should help mend downward trends in the sector.
"It offers attractive credit conditions and allows us to face one of the main factors that explain the fall in production: interest rates raises," he explained.
In related news it was announced that Argentina's trade with Brazil shrunk 23% in June on the same month last year, with the country suffering a total deficit of 5 billion dollars.
According to consultants Abeceb, the deficit was 95% smaller than June of 2013, but the smaller overall balance of 14.453 billion is "explained by the deceleration of the Brazilian economy and a recessive scenario in Argentina, combined with the hardening of its commercial policy," Abeceb noted.
Depleted auto trade between the countries also took its toll on the balance, with production waning on both sides. The semester thus saw a 20.2% decrease in overall exchange with Brazil, which is Argentina's main trade partner.
In the last six months, Argentina imported 20.4% less but also exported 20.1% less to Brazil. Argentina thus experienced a half year deficit of 385 million dollars, 26% lower than the first six months of 2013.