Cobos' party question his military friend visiting the Falklands next to him
Friday, July 4th 2014 - 05:50 UTC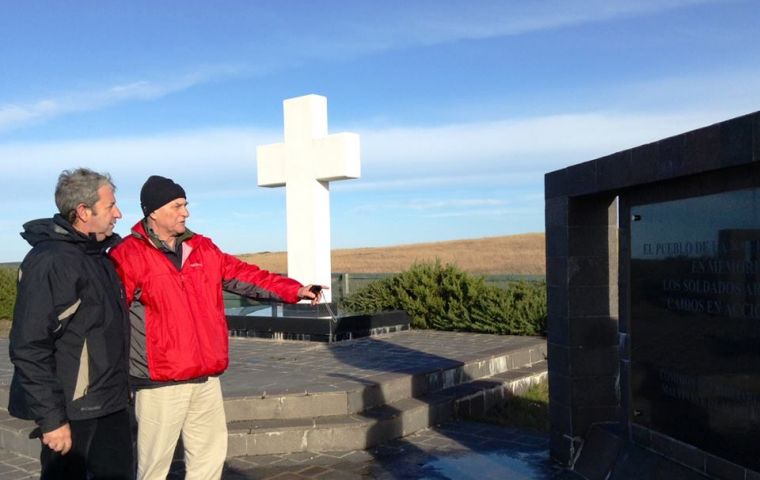 Argentina' Radical party national committee (UCR) took distance from the trip to the Falklands/Malvinas of lawmaker Julio Cleto Cobos and underlined that the visit of the former governor from Mendoza province was "something personal" and in no way involves 'institutionally' the party.
"Julio's trip is a personal matter", said the spokesperson for the UCR, Agustin Campero who added that the initiative 'was not consulted with the party'.
Cobos' visit to the Falklands has received a barrage of criticism both Argentine government representatives and from Malvinas veterans who question his visit to the Darwin cemetery with a 'carapintada' former army officer and for having his passport stamped by the Falklands' government.
"As a member of Congress his trip and visit to the Islands is evidence of "ignorance and lack of respect for Argentina's sovereignty claim", according to President Cristina Fernandez administration lawmakers.
"When he returns from Malvinas Cobos will have to give the necessary explanations" said Campero.
Cobos a former vice-president of Cristina Fernandez (2007/2011) split with her government when in 2008 he voted in favor of the farmers in a longstanding conflict over taxes.
The lawmaker who is now a member of the Lower House (since 2013) and a presidential hopeful, has chosen the Falklands to start his campaign leading to 2015 elections in Argentina, although he has only stated that he wanted to honor the Argentine combatants of the 1982 war and learn about the Falklands.

But despite the criticism, even from fellow Radicales, Cobos celebrated in the Falklands Argentina's victory over Switzerland, which means the team will now play the quarter finals, against Belgium.
But controversy also erupted with one of his first twists from the Argentine cemetery in Darwin: "With Malvinas war veteran Jose Duarte, in Darwin, an hour and a half from Puerto Argentino" and posted a picture of him with the retired military officer.
Apparently Duarte not only was involved in the Malvinas war but also in a military uprising of the 'carapintadas' (painted faces) led by a notorious Colonel Aldo Rico in 1987, which humiliated the government of former president Ricardo Alfonsín, an outstanding leader of the Radical Party, UCR.
Alfonsin was the first democratically elected president of Argentina in 1983 after seven years of military dictatorship. His was also the first to trial and imprison military officers involved in human rights abuses.