Kicillof formally meets 'Special Master' Pollack, but not holdouts delegates
Monday, July 7th 2014 - 07:17 UTC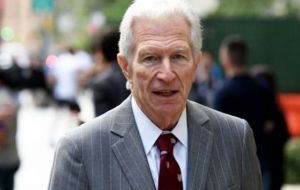 Economy minister Axel Kicillof is heading the Argentine delegation that on Monday will hold a first formal meeting in New York with "Special Master", financial expert Daniel Pollack, appointed as mediator by Judge Thomas Griesa in negotiations between the sovereign country and holdout hedge funds, according to a release late Sunday from Buenos Aires.
Besides Kicillof the delegation includes Finance Secretary Pablo Lopez, the Economy Ministry's Legal and Technical Secretary Federico Thea, and Deputy Attorney of the Treasury Javier Pargament.
Argentina will not make a formal offer to settle its dispute with holdout investors in its sovereign debt at its meeting on Monday with Pollack, and holdout representatives will not be attending, Kicillof has anticipated.
Argentina's mission headed by Kicillof to meet with mediator Daniel Pollack in New York want to check if the holdouts are simply insisting on being immediately paid the full value of their bonds, namely 1.33 billion dollars plus accrued interest, as ordered by US District Court Judge Thomas Griesa, or there are other options.
According to Pagina12 Sunday edition, Argentina wants to ask the mediator if there was a possibility of negotiating a deal to settle the claims of all holdouts, while ensuring it was not exposed to fresh lawsuits from the creditors who accepted the tough terms of its debt swaps in 2005 and 2010.
"We are going to listen to the mediator and we want to know if there is the possibility of a genuine negotiation or if the 'vultures' (holdout funds) expect the ruling to be carried out as it was dictated by Griesa" according to Economy Ministry sources.
Argentina has until the end of the month to strike a deal with hedge funds. If it fails, the country risks tumbling into its second sovereign debt crisis in 12 years. This would sap already-thin Central Bank reserves and prolong Argentina's banishment from the global bond market just as the country needs foreign financing to rebuild its grain export infrastructure and develop its shale oil and gas sector.
Last Thursday all members of the Organization of American States (OAS), except for the United States and Canada, signed a statement in support of Argentina's stand on the case. Roberta Jacobson, US assistant secretary of State for Western Hemisphere affairs, said the United States could not support the declaration as the issue was currently being discussed in court.
In their speeches at the OAS summit, Kicillof and Foreign Minister Héctor Timerman criticized US President Barack Obama's government for failing to support Argentina in its struggle against holdout hedge funds. At the same time, they asked the "international community" to implement "urgent solutions and not only issue statements".
Last Friday Cabinet Chief Jorge Capitanich criticized the US Judiciary arguing that "considering a technical default is a maneuver from the New York judge but not from the Argentine Republic."
"The truth is the US judicial power may be as independent as it says it is but it's not independent from 'vulture' funds if a judge seeks with a ruling to violate a contract between parties," he argued at the Government House.
He added that "we should be worried if that is the judicial system which provides juridical security and confidence to investors." "Investors should look to that power with rigor," he stated.
Capitanich also revealed that the Argentine strategy is to achieve the unfreeze of the coupon payment to holders of the country's restructured debt as a condition for negotiating with holdout creditors suing for full repayment. Capitanich said Argentina will stress the need to respect its two restructuring campaigns as a basis for a deal with the holdouts.
"These conditions will naturally include our objective of respecting the restructuring of 92.4% of our debt and generating fair conditions for all creditors," said Capitanich as to the objective of the meeting.