Falklands' Stanley airport prepares for oil and gas exploratory drilling
Tuesday, July 8th 2014 - 07:49 UTC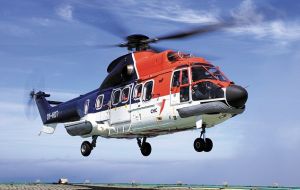 With increased exploratory drilling activity anticipated in the Falkland Islands next year, and Stanley airport expected to play a leading role, the Falklands government is investing in additional fire-fighting equipment to meet the needs of the helicopters servicing the rigs.
Elected lawmaker MLA Phyl Rendell said a paper looking at the need to upgrade fire appliances at Stanley Airport to enable the oil industry to operate from there had been considered at last week's Executive Council, and it was agreed new appliances are needed if the helicopters servicing the 2015 exploration drilling phase are to operate out of Stanley.
The paper prepared by the Director of Central Services Simon Fletcher and the General Manager, Aviation Services Bruce Wilkes noted that from June 2011 to May 2013, two Canadian Helicopter Corporation' (CHC) Super Puma helicopters operated from Stanley Airport in support of the oil exploration round generating approximately revenue of approximately £200,000 per annum for landing fees and land lease.
It was further noted that sight must not be lost of the fact that the current Category 2 appliances at Stanley Airport are, in the case of the Land Rover 6x6, obsolescent, and the Bremach appliance is not fit purpose with a litany of technical faults and deficiencies.
Both appliances do not meet basic regulatory requirements.
Whether the larger Category appliance is leased or hired can be negotiated in the near future but FIG must replace the current appliances with more appropriate and compliant equipment.
MLA Rendell said Premier Oil had indicated they wished to use Stanley Airport so MLAs agreed that two Category 3 airport appliances be purchased with the General Manager, Aviation Services responsible for their purchase.
She said MLAs stressed that the Government should work closely with the oil industry, "to ensure that this major commitment to purchase the equipment is being made in order that the oil industry will use Stanley Airport for helicopter movements during their exploration drilling program.
"It is expected that this would, lead on to continued use of Stanley Airport in a development program" said MLA Rendell.
Stanley Airport is the base for the Falkland Islands Government Air Service fleet of 5 Britten-Norman Islander Aircraft, four of which are passenger aircraft, the other used for Fisheries Protection work. The airport is also used by BAS crafts (PN).