Venezuela knocks on the door of international banks and promises to respect debt payments
Wednesday, July 9th 2014 - 07:32 UTC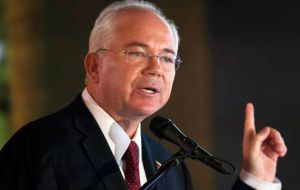 After slamming international banks for more than a decade, the Venezuelan government met with investment bankers to try to change the perception of risk associated to the country and prepare the scenario for upcoming economic measures.
The meetings took place last month in London and Caracas, in the midst of a severe economic crisis, and have fuelled rumors that they could be the anteroom of changes to the economic policy of populist President Nicolas Maduro, including severe austerity measures.
The impact of the meetings was felt almost immediately. Venezuela's country risk dropped from 970 to 914 basis points between the second and the last week in June, rallied by announcements made by the country's new economic strongman, Oil Minister Rafael Ramirez, who guaranteed that the government will respect debt payments scheduled for the second half of the year. He also said the government would unify exchange rates.
Ramirez, who is also the Economic Vice-President, said on Sunday that the meetings with investors have the objective "of explaining our truth abroad" and to combat "those who voice opinions from a political position that is clearly against us."
"We have clear goals. We'll maintain socialism that should be clear. We are not going to divert our path from socialism," the minister said, while dismissing that the rapprochement to international banks could imply changes to the orientation of the Maduro government. Two former ministers have recently criticized the president for allegedly diverting from the socialist path laid out by late president Hugo Chavez.
Ramirez said on Sunday that the government is working on "re-profiling its debt," including extending payment deadlines.
Between October and November, Venezuela and state-owned PDVSA have to pay close to 7 billion dollars in debt amortization and interest, according to Barclays Capital. Many analysts doubt that the government has the funds to make those payments.
Apart from soaring inflation, the shortage of some basic products and the tensions in the exchange market, the fiscal deficit is creating a complicated situation for the government, said economist David Alayon, director of local Kapital Consultores.
According to estimates, the fiscal deficit is around 10% of GDP.
Ramirez indicated that the government turned to a system known as Sicad II, where a dollar is exchanged for an average rate of 49 bolivars, "to reduce fiscal deficit."
The minister said that the government hopes to adopt a series of fiscal and monetary policies before going toward "convergence, a band system of our currency market model."
There are three official exchange rates in Venezuela today: a fixed one — set at 6.30 bolivars per dollar — that applies to the import of certain basic products, and two variable ones — one at around 10 bolivars per dollar (known as Sicad I) and the other at around 50 bolivars per dollar (Sicad II).