Brazil's next government will have to implement a tough fiscal tightening, says Fitch
Friday, July 11th 2014 - 06:36 UTC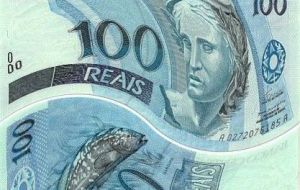 Fitch Ratings on Thursday reaffirmed Brazil's "BBB" credit rating with a stable outlook, but added it expects the next government to control spending in order to avoid additional fiscal deterioration that could trigger a downgrade.
The action concludes Fitch's annual review of Brazil's rating, as promised by analyst Shelly Shetty in March. Some analysts feared that, given the recent deterioration in the country's economic fundamentals, Fitch could slap a negative outlook on the rating at the end of that process.
Competing firm Standard & Poor's in March cut Brazil's rating to "BBB-minus," just one notch above junk level, interrupting a series of upgrades that catapulted Brazil into investment grade in 2008.
With a stable outlook, Fitch is giving plenty of room for the next president, who will be elected in October, to implement the policy adjustments needed to restore Brazil's fiscal responsibility and investor confidence.
Among the most pressing issues, Fitch cited "concerns over lagging administrative price adjustments, reduced fiscal credibility and the lack of a comprehensive reform agenda."
"While the election cycle is likely to delay these adjustments, Fitch believes that some progress is likely after the elections," the firm said in a statement.
Brazil's finances have deteriorated greatly under Rousseff, who granted billions of dollars in tax benefits to key industries in a failed attempt to jump-start an economy that has been stuck in a rut since 2011.
Fitch believes that the Brazilian economy will continue to expand in the range of 2% between 2014 and 2016.
"Fiscal accounts have deteriorated, as reflected in the primary surplus results... which underline the need for the government to control spending and waste"
The agency noted that, according to opinion polls, chances are that President Dilma Rousseff will face a second round of elections on Oct. 26.
"Irrespective of the outcome, Fitch expects some policy tightening next year, although the pace and degree of the adjustment and reform momentum could depend on the ultimate winner and the size of the governing coalition," Fitch said.