New state of the art bulk terminal in port of Montevideo in support of Nueva Palmira
Saturday, July 12th 2014 - 11:45 UTC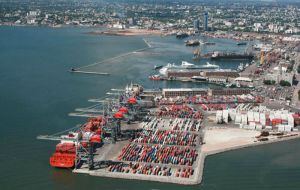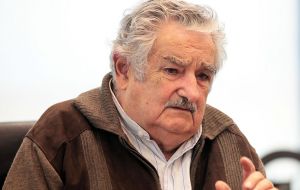 The Greek ship-owning Laskaridis family is investing in a new 100m dollars state-of-the-art grain and wood pellet terminal in Montevideo, Uruguay, adding to the already considerable Greek shipping presence in the country, reports London's Trade Winds.
The new facility, currently under construction and due to be completed in April, is being described as Uruguay's most modern bulk terminal and the local government has high hopes that the project will help boost exports.
It is based at the Obrinel terminal, with which Laskaridis has traditionally had strong links through its reefer shipping, fishing and ship agency business.
The investment has been made by Laskaridis Group holding company Lavinia via its controlling 51% stake in local ship agency company Christophersen SA.
It has also been made in partnership with private-equity firm P2, a joint venture linked to Sao Paulo-based Patria Group and engineering firm Promon.
The Obrinel terminal comes as a natural extension of the Laskaridis shipping business as its customers will include the major trading players it is already familiar with on the dry bulk side.
Christophersen chief executive Guillermo Jacob told TradeWinds: "The project will render services to all trading companies operating in Uruguay, including ADM, Glencore, Dreyfus, Bunge, Cargill and other international grain traders, as well as local traders. The state-of-the-art terminal will bring more efficient and cost-effective export capacity to the expected growth in wood and grain exports over the coming years."
Laskaridis has been expanding its dry bulk shipping business, with 16 bulkers operating and a further 20 on order including 10 ultramaxes, four kamsarmaxes and six newcastlemaxes.
Laskaridis is not the only Greek shipping company that does business in Uruguay and the Montevideo region. Navios South American Logistics, 64% owned by Navios Maritime Holdings, operates a grain, soy bean and iron ore terminal at Nueva Palmira, while the Tsakos family has a dry-dock near the Obrinel site.
The Navios terminal is located right in the middle of one of South America's richest agricultural region. But it is disadvantaged by a shallow 10-metre draught, low loading speeds and around a 90% utilization rate, meaning it is often congested.
Furthermore to dredge the Nueva Palmira access canal, Uruguay must agree with Argentina under the River Plate Administrative Committee, something which the government of President Cristina Fernandez has been constantly delaying or taking advantage of its greater bargaining power.
The Obrinel terminal is expected to step in to help relieve the congestion with its quicker turnaround times. The investment is not being viewed by the Laskaridis family as direct competition to Navios. The two have a good relationship and the terminals could work together. One idea is that panamaxes, which can only load 40,000 tons of grain at Nueva Palmira because of draught restrictions, can now top up with the final 20,000 tons at Obrinel, which is roughly a day's sailing away.
The advantage of Obrinel is that its two berths can take kamsarmaxes of up to 250 meters in length. It also has a 13.1-metre draught, the deepest on the Parana-to-Paraguay waterway, which will allow panamaxes and most post-panamaxes to fully load.
Its ship-loaders can load at 1,200 tons an hour initially but the plan is to take that up to 2,400 tons an hour in the final stages of the project. It is aiming at an annual turnover of two million tons of grain annually with additional wood pellet handling capability.
Obrinel has the backing of the Uruguayan government, which is keen to improve the efficiency of its logistics systems and relieve the congestion at its main export terminals. President Jose Mujica said at a ceremony marking the start of construction work at the Obrinel site: "The terminal is of great importance for faster loading and unloading of ships, and that will lower freight costs, which represent a significant portion of costs."
Thanassis Laskaridis, group chairman and Lavinia Corp chief executive told TradeWinds that he is making the investment for the "future development and growth of the Uruguayan economy".
"With our long-term relationships in the region and the expectation of future growth for agricultural and other bulk commodities it will put Obrinel in a strong position going forward, with its great location, cost benefits and deep draught for our customers compared to our competitors," he said.