US confirms six Guantanamo prisoners will be transferred to Uruguay
Friday, July 18th 2014 - 07:32 UTC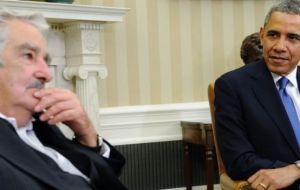 President Barack Obama's administration has discretely notified Congress of its intention to transfer to Uruguay six prisoners from the U.S. base in Guantanamo, Cuba, according to the State Department.
"The administration has given Congress 30 days (advance) notice about the intention to transfer these six detainees from Guantanamo to Uruguay" the State Department source said, which was confirmed in Uruguay by Foreign minister Luis Almagro.
"The United States thanks Uruguay, our partner, for its important humanitarian gesture and values the generous assistance of the Uruguayan government while the United States continues with its efforts to close Guantanamo," the official added.
The prisoners, who received the authorization to be transferred more than four years ago, could arrive in Uruguay within a few weeks, given that it is probable that the US Congress will not block the move.
The 2014 defense appropriations measure requires Defense Secretary Chuck Hagel to provide 30 days advance notification regarding new prisoner transfers and to specify that guarantees and safeguards exist that these individuals do not pose a national security risk.
In the case of these six prisoners, the administration provided those guarantees, the State Department officials said.
This group of detainees will be the largest to be transferred to another country since 2009, when repatriations were halted of prisoners who had received the green light to be transferred from the prison where they had been held for more than a decade.
With the departure of these six prisoners, the number of detainees at Guantanamo will fall to 143, 72 of whom have been approved for transfer.
The transfer to Uruguay was delayed by the controversial agreement resulting in US prisoner of war Bowe Bergdahl's release.
Bergdahl was exchanged for five reputed Taliban members being held at Guantanamo without the administration's notifying Congress in advance.
Uruguayan President Jose Mujica in late March had expressed his willingness to cooperate in efforts leading to the closure of Guantanamo, and effectively confirmed the matter during May when he was hosted by President Obama at the White House.
Uruguay is also preparing to receive an estimated 120 refugees from the Syrian conflict, mostly orphans or children with mothers.